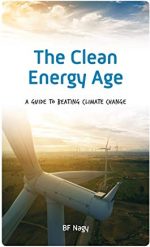 In his book The Clean Energy Age author BF Nagy brings together the research and experience of hundreds of experts who have been involved in solving the problem of climate change.  He focuses ways of reducing carbon emissions from power plants, buildings, and transportation which together account for about 70% of the total.  With an optimistic outlook, he feels that the technology to solve the problem of climate change is already available and that we can save money  as we save the planet.
The most unique part of this book is the Top Ten Lists that give solutions to climate change and action priorities according to a person's situation, occupation or area of interest. There are 12 such lists each aimed at a different group, for example, homeowners, urban planners, teachers, investors, businessmen, farmer etc.  Sometimes a person may feel he/she is in more than one category which gives him/her more opportunities for solving the problem.  The suggestions all come from experts in key areas and have been proven to be successful.  There are two versions of each list; a long version listing and discussing solutions,  followed by a short summary.
Subsequent chapters expand the information included in the Top Ten Lists in regard to buildings, electricity, transportation, investment, business, politics and economics and government.  We learn about the success of Wal-Mart, Google, and GE  in using clean energy, the future of electric cars, and the  affordable energy efficient homes built by actor Brad Pitt in New Orleans after hurricane Katrina.  A wide range of topics is discussed such as net-zero homes, smart grids, subsidies, a carbon tax, and investment strategies.    Nagy's advice is practical and doable but needs the support and involvement of every individual.
To buy The Clean Energy Age fromAmazon.com click here.