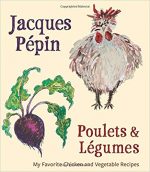 Legendary chef Jacques Pepin presents a selection of chicken and vegetables recipes in this charming little book, Poulets & Legumes.  All of the recipes have been previously published in his other cookbooks but deserve revisiting in this special collection.  Pepin is a French born American chef who brought techniques of French cooking to America and became a well-known TV personality and author of cookbooks.  His recipes have been popular for many years and the ones in this book are his special favorites.
Pepin selected 28 chicken recipes and 39 vegetables recipes for this book.  He begins with basic roast chicken and continues with such taste treats as chicken breast with chervil mousse, and chicken supreme with tapenade and mushroom sauce.  The 39 vegetables recipes include baby artichokes with anchovies, Bakers' wife potatoes and caramelized potatoes Provencal.  Each recipe is introduced by a short paragraph about the background of the dish with cooking and/or serving tips.  Ingredients are listed in red to the left of the simple instructions.  . Reflecting Pepin's philosophy that being a successful chef is knowing and using the proper techniques, each  recipe require few steps and involve  easy to find ingredients that most cooks already have in their pantry.
The recipes draw from the traditions of  bistros as well as fine French and American restaurants so can be used with family, friends, and special guests.  Charming paintings by the author of chickens, vegetables and flowers adorn the pages.  The ones of the chickens are especially endearing and decorate the inside cover pages in a French Provincial color scheme.  A great little book to bring to a dinner party  as a hostess gift.
To buy Poulet & Legumes from Amazon.com click here.