Cheyenne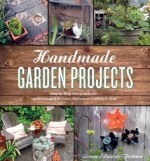 A garden full of plants can be a beautiful sight but a garden with homemade ornaments can be a personalized paradise. Author, Lorene Edwards Forkner provides gardeners with inspiration as well as step by step directions for making an outdoor space uniquely their own. Using basic hardware store materials, found objects, and basement debris the author provides directions for making a variety of garden furnishings that are both creative and eco-friendly as well as possible for the novice crafter.
Sarrià-Sant Gervasi Starting with the premise that inspiration is everywhere, the author urges the reader to start by exploring the garage for all sorts of materials that can be recycled, repurposed, and re-envisioned for the garden. Additional information is given on possible materials, building tools, and safety measures. Examples of successful projects from different gardens illustrate how everyday garden features and accessories become personal expressions joy.
After revving up the reader with the potential of handmade garden projects, the author presents over thirty different projects, each with a list of materials, step-by step directions, and photographs of the finished projects. The projects are grouped by purpose; chapter one is devoted to accessories and ornament pathways, patio, and lawns where you can learn how to make such things as a turf tattoo and bamboo edging. Other chapters focus on projects that support plants, create a focal point, and provide a gathering place for enjoying company in the garden setting. Here you will find directions for such items as a fountain made from a water jug, a river-rock coffee table, and pergola made from plumbing pipe. A list of fragrant plants to tuck into the garden is also included. A chapter on containers includes directions for an old fashioned knot garden done in a child's red wagon, an herb tower in metal buckets and a succulents in a container fashioned from apiece of gutter. If you don't have any pieces of gutter around, perhaps an old toaster might be found to serve as a planter; a picture will show you some possibilities. Forkner believes that items like a bird bath made from an old light fixture, homemade fireflies, and wall flowers from old vinyl records bring out the personality and character of the gardener and provide the finishing touches. Her last chapter is more practical and addresses the need for organizing everyday gardening necessities. She includes directions for a folding potting bench for limited space, a storage container made from old shutters, and a tool box for harvesting flowers from the garden.
The clearly written directions and excellent photographs are worth the price of the book if you want to personalize your garden with handmade items. In addition to the major projects the author provides variations on every theme and plant lists to use with the projects. No need to be a skilled craftsman, a willingness to try is enough to get you hooked into a playful and rewarding endeavor.
To buy Handmade Garden Projects: Step-by-Step Instructions for Creative Garden Features, Containers, Lighting & More from Amazon.com click here.