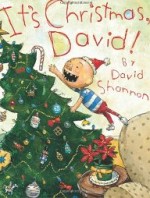 Christmas time is a great opportunity to start new traditions. What better way to do this than making a collection of special books that can be shared by family members during the Christmas holiday. David Shannon's book, It's Christmas David!, is a good choice for such a collection because it presents a unique look at the Christmas experience by touching on many aspects of Christmas that resonate with most children. Aimed at children 4-8 years in age, it can enjoyed by younger children too and is suitable for group reading.
Most children are familiar with the good behavior that is expected during the holidays and David is no exception. But David is a normal mischievous little boy and he can't seem to help playing with the ornaments, snitching freshly made cookies, or playing with snowballs.  Surviving a formal holiday dinner and standing in long lines for Santa are especially difficult because David knows that Santa leaves coal for children who are not well-behaved.
David is an endearing little boy that young readers can identify and empathize with. He is not a bad kid but feels and does the same things that all children to. His antics are written in simple words, in child-like letters, making David more personable and real. The bright, vivid pictures fill the pages from edge to edge and capture the spirit of David and his antics. I especially like the one of David on Santa's lap with a long list of the presents he wants while Santa seems to be gazing off in the distance and someone is yelling "Hurry up". Author Shannon gives us a different look at Christmas, but a delightful one.
To buy It's Christmas, David! from Amazon.com click here.