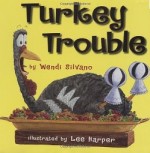 Thanksgiving offers up opportunities to enjoy a new variety of books with children and Wendi Silvano's Turkey Trouble is one of them. Recommended for children six to eight years old it works well, however, for younger children too. The story deals with the problem many turkeys face, the possibility of being eaten for Thanksgiving dinner.
When Turkey finds out that Farmer Jake has scheduled him as the main course for Thanksgiving dinner, Turkey decides to disguise himself. He tries disguises of various farm animals but just can't seem to get it right as the other animals point out. Finally he hits on the perfect solution to the problem and has the best Thanksgiving ever.
The story line is simple and repetitive so children can easily follow it and feel its rhythm. The lively illustrations bring the story to life and children enjoy predicting the next disguise and the responses of the animals. Filled with humor and whimsy Turkey Trouble is a wonderful way to share the weeks before Thanksgiving Day.