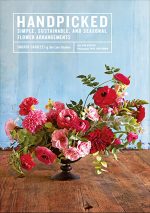 Ingrid Carozzi, floral designer and owner of Tin Can Studios in Brooklyn, N.Y., shares her sustainable approach to flower arranging and provides instructions for making more than 35 arrangements in her book Handpicked.  With a deep commitment to  sustainability she discusses the reuse of materials, foraging for plant material, use of eco-friendly materials, and sourcing flowers locally and seasonally whenever possible. Believing that there is no right or wrong in flower arranging, the author fills her pages with tips and ideas to tweek the imagination of readers and set them on a new course.
Carozzi begins by explaining the choice and care of the flowers, berries, fruits, and foliage that she uses in her arrangements.  She highlights her 12 favorite flowers and suggests foraged greens as well as potted greens, ferns, and herbs for foliage.  She divides containers into 4 groups, recycled, upcycled (fixed up containers), second hand items, and reclaimed boxes and crates that she builds from salvaged  wood, giving suggestions for developing and using a supply of such vases and containers. The instructions for arrangements are arranged in two groups, essential arrangements, and seasonal arrangements and include a list of plant material and hard goods, step-by-step directions, a full page color photo of the finished arrangement, and tips for success.  The arrangements are in a loose romantic style that feature flowers and other plant material that can be found in most local grocery stores but a list of substitute flowers that are similar is shape, texture and look is included.  A A list of Carozzi's favorite flower markets, nurseries and wholesalers completes the book.
The text is conversational and intimate, as though Carozzi was a friend guiding you through her approach to flower arranging.  The book is enhanced by a myriad of photographs, many of which give the reader a look at the Brooklyn environment which nurtures the creative spirit of the author.  Handpicked is good on the coffee table or dog-eared on the bookshelf.
To buy Handpicked from Amazon.com click here.