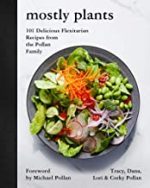 Based on the concept of the flexitarian diet, Mostly Plants presents an approach to eating that shifts the ratio of food from animals to plants.  This approach is very useful for a family with different dietary needs and wants as all the recipes are adaptable to various diets including vegetarian, vegan, gluten-free, and dairy-free. No need to give up delicious food or spend oodles of money on exotic ingredients as the recipes are tasty and use easy to source foods as well as being healthy and environmentally sensitive.
The recipes are divided into 10 groups by use:  Meze and Bites, Salads, Soups and Chilies, Burgers and Sandwiches, Vegetable Mains, Seafood Mains, Meat Mains, Sides, DIY, and Sweets.  Pick from such choices as pesto and Parmesan stuffed mushrooms, pear carpaccio and frisee salad with walnut vinaigrette, or red lentil and bean chili.  If you are looking for fast-food alternatives try the white bean and kale quesadillas with roasted tomatillo salsa, the veggie burgers of quinoa, black beans and mushrooms, or chickpea patties with cauliflower and spinach.  Vegetable mains include orecchiette with shaved Brussels sprouts and creamy parsley pesto, while omnivorous mains offer shrimp scampi with zucchini noodles and chicken piccata with broccoli "rice".  The sides are particularly appealing with Delicata squash rings garnished with crispy sage and rice noodle nests tempting the palate.
Each recipe begins with an enthusiastic introduction that is sure to motivate and continues with a list of ingredients, step-by-step instructions, number of servings,  time for completion, and a large full color photograph of the completed dish.  Tucked into text are an indication of vegan, vegetarian, gluten free, and dairy free characterisitics, and suggestions for substitutions or changes.  The directions are easy to follow and no special skills or equipment are needed to complete the meals.  Especially valuable are the buying guide, a list of kitchen short cuts, and tips for making any dish taste better.  Vegans and even vegetarians may be disappointed in the amount of animal based food that is included but considering the goal of the book, to change the ratio of food eaten from animals to plants, the amount is not unreasonable.  If you are trying to change diets to include more plants, Mostly Plants, is an excellent resource.
To buy Mostly Plants from Amazon.com click here.
uch cheese and eggs in the veg recipes.