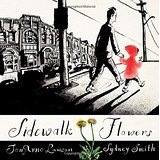 Urban life with its miles of streets clogged with traffic, ribbons of sidewalks, and massive buildings often seems lacking in some of the things that make life special. JonArno Lawson's book, Sidewalk Flowers, takes the reader on a walk in a city from a child's perspective and uncovers feelings to which readers of all ages can relate. Created for children from four to seven, this wordless book reveals a unique view of a little girls walk in the city by vivid pictures that capture many of the little things that are easy to overlook.
The story begins with a little girl dressed in a red hooded jacket walking home from a grocery story with her dad who is talking on his phone. While her father is absorbed in his own pursuit the little girl notices many things and begins to pick the flowers that manage to grow in the cracks of the sidewalks and walls she passes by. She finds a variety of flowers that some would call weeds but she that she views as treasures and we see her enjoying their fragrance. And then the little girl begins to give away her treasures, first to a dead bird, then to a man sleeping on a bench, to a dog she meet on her way, and finally to her mother and brothers. The last flower she keeps for herself. Such a simple story but yet so sensitive and touching.
The story is told in pictures contained in various sized panels. The pictures and mostly black and white at the beginning but always features the little girl's red hoodie and sometimes other objects. As the story moves along the pictures contain more and more color and burst into a crescendo of color as she gives her flowers away. Sidewalk Flowers is a unique book that says a lot to young and old alike.
To buy Sidewalk Flowers from Amazon.com Click Here.