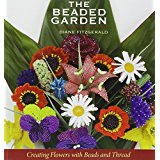 When the gardening season is over for the year what does a gardener do? If you like crafts perhaps the idea of making flowers out of beads will appeal and Diane Fitzgerald's book, The Beaded Garden, can be a guide and inspiration. Using needle and thread crafters can make a virtual garden full of color and exquisite detail anytime of the year.
After some basic information on flower anatomy, materials, and general construction of beaded flowers, the author gives detailed directions for non-specific plants parts such as the calyx, oval petals or leaves, and netted leaves. The majority of the book is devoted to directions for making various flowers both specific like water lily, pansy, and lily of the valley, or generalized like multipetal , rolled, and eight petalled flower. The stitches used are brick, peyote, net, and herringbone with directions for each given in the back of the book in a section called Beading Basics. In addition to flowers, the book provides directions for bugs, a butterfly, a caterpillar, and a brooch flower holder. Step by step directions are given for each entry along with detailed diagrams and a photograph of the finished product. Large photographs of projects using beaded flowers serve as an inspiration of the way beaded flowers can be used creatively.
Both the individual flowers and the projects are beautiful but unfortunately no directions are given for the projects. Most of the projects shown are jewelry and they are magnificent and definitely stir the imagination! The directions for the individual flowers are clear but previous knowledge of the techniques involved would make the book less daunting for those of us with little experience.
To buy The Beaded Garden from Amazon.com Click Here.