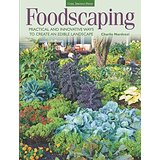 As more people want the freshest produce possible, interest  in growing food in the home garden is on the rise. Some people have gone so far as to turn their property into and edible landscape but that is not necessary, as Charlie Nardozzi shows in his book Foodscaping. Nardozzi takes a milder approach and offers suggestions for integrating edibles into the garden without sacrificing beauty so you don't sacrifice anything.
Building on the premise that many edible plants are beautiful, Nardozzi shows how foodscape plants can substitute for common landscape plants. For example, instead of growing a hedge of burning bush (Euonymous alata) try blueberry. Both have good fall color but the blueberry provides fruit with special health benefits. Why grow morning glories when you can grow pole beans on the same trellis and harvest the beans for months? Why not use mint as a ground cover instead of ajuga? By using the principals of succession planting and intercropping you can add color and texture to the garden with kale, parsley, and lettuce. Containers can increase the potential for growing edibles especially when you choose some of the dwarf varieties suggested by Nardozzi such as 'Lizzano' tomatoe 'Salad Bush' cucumber, and ''Table Bush" acorn squash'. If you are in doubt as to what edibles are best suited for foodscaping, consult Nardozzi's chapter on forty favorite foodscape plants. For each plant he tells you how to use the plant, recommends attractive varieties and companion plants, and give tips for planting, growing and harvesting.
The text is chatty, easy to read, and filled with good suggestions for using edible plants in the garden. Photographs of the plants add visual reinforcement that helps to stimulate the mind to think beyond the modest coverage of the topic suggested in the book. An excellent introduction to the use of edibles in the garden.
To buy Foodscaping from Amazon.com Click Here.