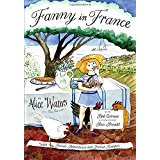 Alice Waters, owner of the famous restaurant Chez Panisse and early advocate of organically grown,, fresh, local produce, shares the stories of the culinary adventures her daughter, Fanny, in France. Written in the voice of the young Fanny, the stories give a homey picture of the everyday experiences especially cooking that Fanny shared with French families and friends. The second half the book presents forty one of Fanny's favorite French recipes.
The adventures of Fanny are varied and endearing. Fanny and her friends collect fresh eggs, visit a flea market, and go to lunch at Chateau d'Yquem. Cooking and food are an important part of everyday and Fanny enjoys potage de cresson and les grenouilles, and brochette de fruits, and helps with the preparation of bouillabaisse, couscous with garlicky chicken and vegetables, and mirepoix for braised duck legs. Fanny also enjoys a treasure hunt in the woods, a night in a canopy bed on a straw mattress, and fought off wasps during a mistral. Through the stores the reader learns about the unique French way of doing things and gains an understanding of why Alice Waters developed her views on fresh produce and cooking.
The recipes are divided into eight groups: Le Pain, Hors d'Oeuvres, Les Potages, Petits Repas, Plats Principaux, Les Salades, Les Desserts, and Les Confitures. The breads include flatbread and baguettes, while the hors d'oeuvres offer marinated olives and cheese puffs. Soups include watercress, ppistou, and garlic ans well as chicken brothr. Do you like omelets, grilled cheese sandwiches, or tomato sauce pizza? Fanny's version is waiting for you along with more robust fare such as bouillabaisse, fish in parchment paper packages and herb roasted lamb. For a salad you can choose a simple mesclun with edible flowers, or garden lettuce with baked goat cheese; for dessert perhaps buckwheat crepes , fruit kebab a la Troisgros, or orange honey mousse. Plum and roasted strawberry jam recipes round out the collection. For each recipe the ingredients the quantity is given, the ingredients are listed, and directions are provided.
The stories about Fanny, however fanciful, are charming and informative. The recipes are said to be simple but probably more so if you are French or have a reasonable amount of facility in the kitchen. They require top notch, fresh ingredients, and focus on the natural flavors that only such ingredients can create. Written primarily for children, it is also pleasing to adults, especially the recipes. With colorful whimsical illustrations, the book is a delight.
To buy Fanny in France from Amazon.com Click Here.