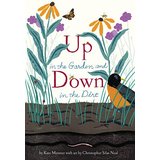 It is easy for most of us to see the value of a flower or vegetable garden but do we ever think about what is going on beneath the plants in the dirt that contribute to the whole garden scene? Probably not but Kate Messner's book, Up in the Garden and Down in the Dirt, provides a glimpse into the underground world. Written for children ages four through eight, the book shows the intimate relationship between two different worlds.
The story line revolves around the gardening activities of a young girl and grandmother beginning in spring when the soil is still cold and a garden is still just a dream. As the growing season progresses they prepare the beds, plant seeds, take care of their plants and finally harvest their crops. All through the growing season we see Nana and her granddaughter doing their share of work in the garden followed by scenes of all sorts of animals contributing their share. In summer as they harvest cucumbers and zucchini a skunk works the night shift gobbling up cutworms. While Nana hunts aphids, a praying mantis hunts mosquitoes. The back and forth look at the activities of humans and animals encourages an appreciation of creatures big and small and reinforces the concept of inter dependency between all living things. The end work includes an author's end note to highlight her ideas and information on all the animals mentioned in the text accompanied by a small picture.
The text is musical and inviting. The mixed media illustrations follow through with lots of soft earth tones accented occasionally with a touch of bright color. This is a lovely book that combines beauty with high educational content. A great choice for introducing young children to gardening and the concept of ecology.
To buy Up in the Garden and Down in the Dirt from Amazon.com Click Here.