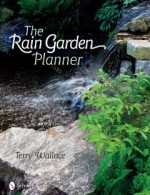 Since the 1990s rain gardens have increasingly attracted attention as a way of managing water quality in an ecologically responsible way. Terry Wallace's book, The Rain Garden Planner, provides you with the information and details needed to design, install and maintain a rain garden that restores the natural processes for filtering and returning water to groundwater reservoirs. Such a rain garden is well within the reach of any gardener and can reflect a variety of needs and aesthetic tastes.

The author begins by describing the value of rain gardens and showing how housing and urban development have destroyed the natural cycle and created problems ranging from pollution to flooding. Wallace points out that a rain garden uses natural processes for cleansing water and replenishing supplies and can take a variety of forms from informal or formal, from a meadow of wildflowers to a planting of daylilies. They can be found associated with parking lots, game refuges, and college campuses as well as in backyards.
Wallace turns next to specific suggestions for designing a home rain garden. He emphasizes that a rain garden should not be an add-on but rather an integral part of the landscape, blending with the larger planting scheme. Seven steps are presented for creating a rain garden and are followed by separate chapters on installation, maintenance, and plant selection. The chapter on plant selection is especially valuable since the plants used in a rain garden have to be able to tolerate both flooding and drought. Lists are provided of native and non-native commonly available flowering perennials, ferns, grasses and sedges, and trees and shrubs. Knowing the importance of pleasing plant combinations, Wallace suggests general guidelines for plant selection as well as detailed planting plans for several kinds of rain gardens including a cottage garden, formal garden, wildlife habitat, and shade garden.
Rain gardens are not the only way to improve water management and Wallace includes a chapter on other ways to conserve and protect water supplies. Alternative paving materials, rooftop plantings, and tree-planting are considered as well as wise water use, use of composting to improve the water holding capacity of the soil, and xeroscaping. Lists of rain garden websites, plant sources, plant references, and design/consultation firms, plus a glossary of terms and reading list, round-out the work.
If you are interested in having a rain garden but are not quite sure what it would take to have one, this is an excellent book to read. It provides you with reasons for choosing to have rain garden, the possible forms it could take, the planning and work it would require, and the results that would be achieved. The text is amply illustrated with photographs that are especially helpful in envisioning what to expect as you go through the planning process and makes an abstract concept into a very real possibility.
To buy The Rain Garden Planner: Seven Steps to Conserving and Making Water in the Garden from Amazon.com click here.