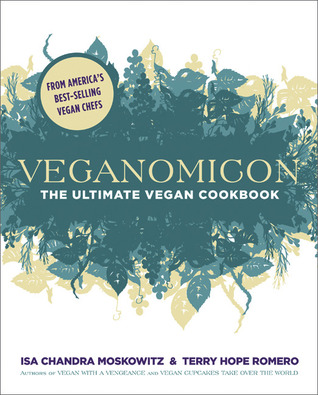 I love my vegetable garden so, of course, I am interested in using the products of my labor well. Although I am not a vegan or even a vegetarian, I have found Veganomicon an exciting source of information on how to make the most of the vegetables I grow. Filled with creative recipes, there is something to please everyone that eats vegetables and, in fact, will tempt even those that don't. Whether you are a long time vegan, experienced cook, or totally new to both you will find recipes that are easy to cook and tasty too.
Everything you need to know about cooking vegan-style is included beginning with the first chapters that cover general information on stocking the pantry, equipment, cooking and prepping terminology and the basics of grain and bean cooking. The recipes that follow are divided into groups such as Soups, Pasta, One Pot Meals and Stove Top Specialties, and "Sammiches". Ingredients are listed in the order they are used and the instructions are presented in baby-steps so that even a neophyte can follow them. Many recipes include only easy-to-buy, familiar ingredients, while others require more exotic components often with substitution suggested. The authors don't shy away from olive oil and other healthy fats but respect those that do and suggest alternative methods of cooking where appropriate. Recipes include icons to indicate soy free, gluten free, low or reduced fat, under 45 minutes prep-time, and supermarket friendly. How can you go wrong? You know what you are getting into it before you start. Numerous tips are included in highlighted boxes from alternative ways to pronounce latke to selecting Brussels sprouts and peeling acorn squash. A final chapter includes menus by theme (Mexican, Indian, Picnic, Roman Goddess, etc), and an appendix gives lists of recipes by icons so you can quickly find recipes that are soy free, gluten free, super market friendly, or can be fixed in under 45 minutes.
The friendly, joyous tone of the text makes the reader feel as though she/he is standing beside the authors. Questions are anticipated and problems are solved before they arise. Good natured humor as well as extensive experience fill every page. For the vegan, vegetarian, vegetable lover, or gourmand, Veganomicon is a fabulous culinary experience.
To buy Veganomicon: The Ultimate Vegan Cookbook from Amazon.com click here.