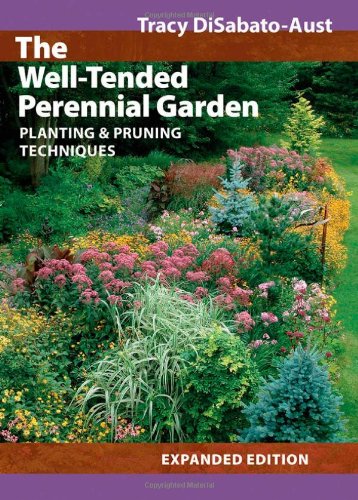 If you grow perennials you know that they bring great rewards but need some work to keep them performing at their best. Tracy DiSabato-Aust's book, The Well-Tended Perennial Garden gives you the information you need to have beautiful perennials year after year. The book covers topics from soil preparation to plant selection and care with a focus on pruning.
The book is divided into three sections. The first covers the basics, noting that the design of the garden will determine the kind and amount of maintenance that will be required. Individual chapters are devoted to plant selection, bed preparation, planting, pest and disease control, staking, division, and renovation of established perennial garden.
Section two deals with pruning or what the author calls plant grooming. This includes deadheading, pinching, disbudding, and cutting back. According to DiSabato-Aust, pruning is a creative task and is a key factor in creating a distinctive garden. Detailed pruning instructions with diagrams are given for many different kinds of plants so that they can reach their full potential in the garden.
The third and largest section of the book is an A-Z Encyclopedia of Perennials. It is not, however, the usual kind of plant encyclopedia. It contains the Latin and common name, hardiness zones, size, exposure, flowering and brief description as you would expect but features lengthy paragraphs on pruning and other maintenance tasks. Suggestions are also given for related plants, often providing the names of better varieties that are lower maintenance.
The author writes in a friendly, easy style that reflects her hands-on extensive experience. She shares personal anecdotes and her philosophy about various aspects of gardening all of which make reading the book fun as well as informative. Don't expect a book that deals with garden design; DiSabato-Aust has another volume on that subject. This book deals with the steps necessary for establishing a perennial garden and maintaining it, with emphasis on the latter. It is a good read from cover to cover, but deserves a place on the reference shelf too.
To buy The Well-Tended Perennial Garden: Planting and Pruning Techniques from Amazon.com click here.