Tulips have been a favorite spring flower for hundreds of years. They were grown in Turkey as early as 1000 AD and were into Europe in 1572. They were called tulips after the Turkish word for turban and became very popular in Europe, especially Holland, by the 17th century. The bulbs sold for extremely high prices as 'tulipmania' took hold and Botanists began to hybridize them, making them more beautiful and decorative as time went on. Most of the tulips you buy today are hybrids and show a huge variation in characteristics. Here are some of the variations you might want to consider when buying tulips for fall planting/spring bloom.
Note Bene: The name of the class to which each tulip belongs is given before the cultivar name of hybrids in order to facilitate identifying the tulip if you decide to buy or learn more about it.
1. First and foremost, decide if you want tulips that will return every year and look good, or tulips that will look fabulous the first year and then decline to virtually nothing in 2-3 years. Most tulips you see are of the latter kind and you have to accept the fact that they will decline and so are best treated as annuals, pulled out after bloom, and new bulbs replanted the next fall. The tulips that will most likely return and multiply (naturalize) come in many different colors, sizes, and shapes but they generally are not as large and showy as the declining kind. Here are some samples of tulips that will naturalize:
Species tulips are the most likely to naturalize; they are also the smallest plants with the smallest flowers but they come in an amazing assortment of colors and color combinations. These are easy to find on line or mail order; John Scheepers, for example, carries 27 different kinds.
Example: Tulipa humilis 'Eastern star' (magenta rose with canary yellow heart; 6" tall; April bloom)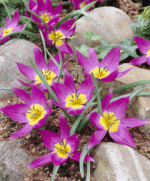 Example: T. clusiana var. chrysantha 'Tubergen's Gem' ( red outer petals and bright canary-yellow interior; 10", April bloom)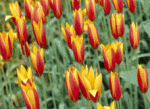 Other tulips that may naturalize if given the proper conditions.
Example: Kaufmanniana hybrid 'Stresa' (current red with bright yellow edges and a yellow interior; 8-10' early spring bloom)
Example: Emperor or Fosteriana tulip 'Red Emperor' (fiery-red with yellow base, 18"tall, mid April bloom)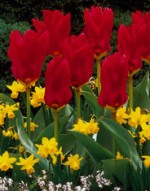 Example: Giant Darwin hybrid 'Big Chief' (rose-salmon with darker edges maturing to dark rose-salmon with a silver sheen and a yellow base, 24", mid April-May bloom)
Although species tulips are fairly reliable return bloomers, the other tulips mentioned here are not so if you decide to try them, don't be disappointed if they do not return or return but look bad. Avoid planting them in large drifts so when some return they will still look beautiful in their setting.
2. Color is probably what matters most to the majority of people. Tulips come in many different solid colors, vivid and pastel, including purple but not in true blue.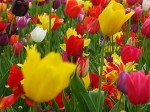 Some tulips have two tone flowers.
Example: Triumph tulip 'Jackpot' ( grape-purple petals with white edges and base , 16", April/May bloom)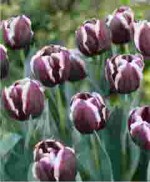 Viridiflora tulips have green feathering on white, yellow, salmon-rose, pink, yellow, white, orange, dark raspberry,or purplish-red petals.
Example: 'Greenland' (rose-pink with soft-green feathering; 22" tall, late April-May bloom)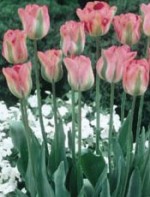 Some tulips have streaks that many people find very attractive. Originally these streaks were caused by a virus but modern look a likes are virus free.
Example: 'Olympic Flame' ( yellow with red streaks)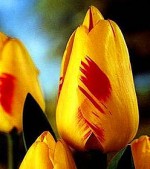 3. Color is not the only way tulip petals differ. They vary considerably in shape and ornamentations.
Crispa tulips have fringe on top of each petal.
Example: 'Cummins (deep lavender-blue with white fringed edges, 18-20" tall, May bloom)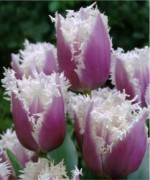 Parrot tulips have fringed and scalloped petals.
Example: 'Black Parrot' (purple-black, 20" tall, May bloom)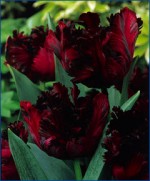 Other parrot tulips combine the fringe and scallops with exotic coloring.
Example: 'Rococo' ( cardinal-red with purple and green flames and feathering 14", May bloom)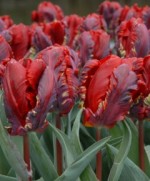 The Lily flowering tulips have deflexed petals giving them the look of a true lily in side view and a 6 point star from above.
Example: 'West point' (primrose yellow, 20" tall, May bloom)
4. Most of the tulips you see have a single set of petals but there tulips with double petals.
Example: Double Early 'Monte Carlo' (yellow, 12" tall, mid April bloom)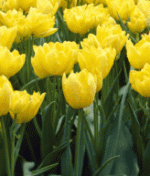 The double Late Flowering tulips have so many petals they resemble peonies.
Example: 'Angelique' (pinkish-white with old rose highlights, 18", late April bloom)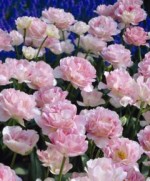 4. Tulip flowers vary in size. Flowers may be small.
Example: Tulipa humilis violacea (purplish-rose with yellow base and greenish-yellow anthers, 4-6", early April bloom)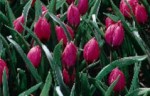 Or large.
Example: Darwin tulip 'Ollioules' (old rose with white eges, yellow base and violet anthers, 22' tall, mid-April-May bloom)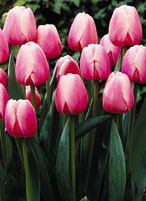 5. The height of the plant varies from 4"…
Example: species tulip Tulipa humilis 'Magenta Queen' (lilac-purple with green flames and interior yellow base, 4-6" tall, April bloom)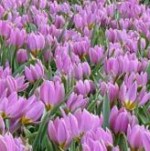 To 30"
Example: Single late tulip "Temple of Beauty' (salmon rose with darker and paler flushes, 30" tall, May bloom)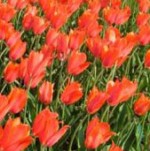 7. The appearance of the foliage varies. Most tulips have blue green leaves.
Example: Single Early Tulip "Best Seller" (salmon-copper with rose flames, 16" tall, mid –April bloom)
Some have green leaves with white edges.
Example: Viridiflora tulip 'China Town' (pink with darker pink spots, carmine rose edges, and green flames, 12' tall, May bloom)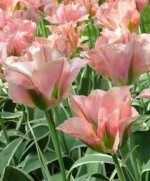 Other tulips are known for their marked and mottled foliage.
Example: Griegii tulip 'Orotorio' (rose with apricot sheen and black base, 8" tall, April/May bloom)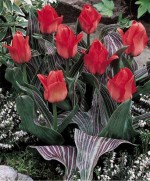 8. Some tulips are fragrant.
Example: Triumph tulip 'Apricot Beauty' (salmon-rose with light apricot edges and a pale green star at the base, 18" tall, April/May bloom)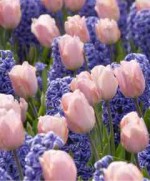 9. How you use the tulips might be an important consideration. The tulips of short stature are excellent in rock gardens.
Example: Kaufmanniana tulip 'Early Harvest' (scarlet with paler orange interior feathered with dark scarlet and with a yellow base, 10" tall, early spring bloom).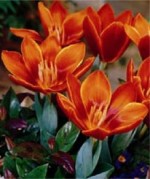 Many tulips do well in containers.
Example: Griegii tulip 'Elise' (creamy yellow with pale yellow and pink tints, 10"tall, April/May bloom)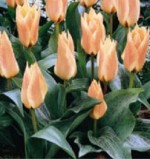 If you like to cut tulips for arrangements, the exotic look of the Parrot Tulips can't be beat.
Example: 'Green Wave' (pale pink with green flames and a white base, 20" tall, May bloom)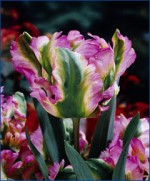 The long stems, huge flowers, and brilliant colors of Darwin Tulips have great appeal for flower arrangers.
Example: 'Silverstream' (creamy yellow streaked with red, 24" tall, mid-April-May bloom)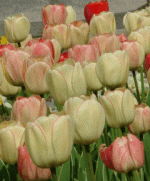 If you want to have a bouquet of tulips with one snip of the scissors try a Multi-Flowering tulip .
Example: 'Happy Family' (rose pink with slightly paler petal edges, 20" tall, May bloom)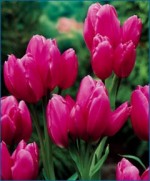 10. The time of bloom is probably important especially if you want a continuous bloom in the spring and/or want to coordinate the bloom of tulips with other bulbs like narcissus. The first tulips bloom in early spring.
Example: Kaumanniana Hybrid Tulip 'The First' (carmine-red with white petal edges and ivory interior with yellow center , 8" tall)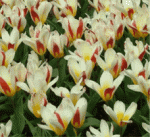 The last tulips bloom in May.
Example: Single late Tulip 'Bleu Aimable' (lilac with a blue sheen, 24", May bloom)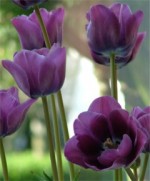 The examples used here suggest the huge variety that exists in the genus Tulipa.
With over 3,000 different kinds of tulips there are many combinations of characteristics so don't be limited by what is shown here.