Is there anything that gives hope in the dreary days of late winter/early spring than the emergence of bright yellow daffodils? No matter how gray or harsh the winter the sight of those stalwarts of the garden warms my heart, lights my spirits and assures me that the garden season is about to begin again. But if you want to have daffodils in the spring you have to plan ahead and plant them in the fall early enough so they can send out roots and get themselves ready for the grand display in spring. The catalogues that the bulb companies send me during the summer are a gentle reminder that I must start thinking about spring soon and get my order in so that I receive the bulbs I want when I want them. Yes, I could buy bulbs at the local nurseries and big box stores but the mail order dealers offer a much larger selection, at much better prices, and will send them to me at the proper time for planting.
First let's define the terms; Narcissus is the botanical genus name for the plants we call narcissus, daffodils and jonquils so I will just call them all narcissus.
Narcissus come in a large range of shapes, color variations, heights, bloom dates, and other characteristics so picking the best ones for my garden is not a simple matter.  Here are some of the important characteristics to look for:
1. Size of cup
The cup can be longer than the petals or less than 1/3 the length of the petals.
Example: 'Marieke' ;"Trumpet daffodil" with long trumpet.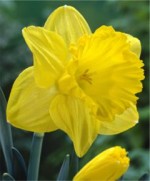 Example: 'Polar Ice'; small cupped Narcissus with tiny frilled cup.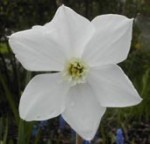 2. Color
The flowers may be one color (usually all white or all yellow), or bicolor with the petals being one color and the trumpet another.
Examples: 'Marieke (see picture above); all yellow.
Example: "Polar Ice" (see picture above) all white'
Example: 'Serola'; Yellow petals with orange-red trumpet'

Example: ''Decoy'; white petals with pink cup (so called pink daffodils seem peach to me)

3. Shape Variations have occurred to the standard form of a flat ring of petals round a projecting cup. One of the more common is multiple layers of petals, cups or both.
Example: 'Tahiti'; 4″ soft yellow petals with a double cup offset with shorter, frilled, orange cup segments.
Example: 'Rip van Winkle'; petals and cup are split into thin segments.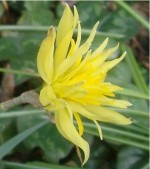 The petals may be reduced.
Example: N. bulbocodium 'Golden Bells'; the cup dominates.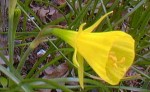 The petals may be reflexed (cyclamineus narcissi).
Example: 'Englander'; petals turn back instead of forming flat disc flat.

4. Number of flowers per stem.
Flowers may be born singly.
Example: 'Ceylon' ; deep yellow petals, and orange-rimmed cup; extremely vigorous and with long lasting flowers.

Or flowers may be borne in clusters.
Example: 'Grand Primo'; clusters of quarter seized flowers with white petals and yellow cup.

5. Size of flower.
Some flowers are very small with slim proportions.
Example: 'Ice Wings'; three delicate, fragrant white flowers per stem.

Others are large with large proportions.
Example: 'Mount Hood'; 4" creamy yellow flowers slowly turn white over long bloom time.

6. Height:
Narcissi may be up to 20" tall.
Example: 'King Alfred'; most popular of the large yellow varieties (but not necessarily the best).

Others as short as 5".
Example: 'Little Gem'; clear yellow petals with deep yellow flared trumpet.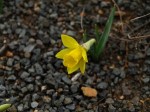 The flowers may be borne above the foliage'
Example: 'Quail'; rich bronze yellow with slightly darker funnel shaped cup.

7. Time of Bloom: (dates dependent on location)
Bloom time can vary from mid winter…
Example: 'Rijnveld's Early Sensation'; often bears two vivid yellow flowers per stem.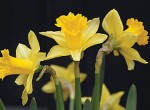 to mid spring.
Example: 'Sinopel', ivory white petals with bowl-shaped, greenish-white cup with narrow yellow edge.

8. Fragrance: The fragrance of some narcissus can add a great deal to the garden experience.
Example: 'Trevithian,' early blooming, deep yellow hybrid of N. jonquilla.

9. Tendency to naturalize: Many narcissus will adapt as if native to the new environment, will multiply, and return year after year.
Example: 'Juanita', buttercup yellow, large cupped with orange edge.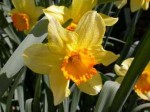 This is only a little sampling of the variety that is available with narcissus. All sorts of combinations of characteristics are possible so don't settle for the limited choice you are given in local stores. Look through a catalogue* and explore the wonderful world of narcissi!
*www. johnscheepers.com has a very nice selection of narcissus with pictures