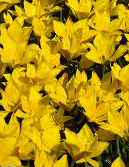 Growing species tulips is a rewarding experience especially considering that they are more likely to come back in future years than other kinds of tulips. Species tulips have a simple, delicate charm that makes them especially suitable for old fashioned gardens. Many species tulips, however, have been introduced since 1900 and some in the last 50 years. The five species tulips that are described here are all heirlooms and have been grown in gardens for over 100 years. They are available from catalogs and on-line sources.
Originally from the Mediterranean, Turkey and the Caucasus Mountains, species tulips are excellent for rock gardens and the front of the border. These five are all small and bloom from early April to May, depending on the species. They are good for containers too.

Tulipa biflora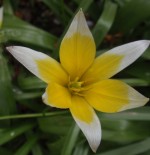 Three fragrant white flowers with large yellow hearts are edged with red and are borne above gray-green foliage.
Date of Introduction: circa 1776
Color: White with yellow center
Height: 5"
Bloom Date: April
Hardiness: Zones 5-8

Tulipa humulis violacea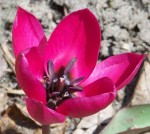 Also known as the Red Cross Tulip, this purplish-rose beauty has a yellow base and greenish-yellow anthers.
Date of Introduction: Circa 1860
Color: Rose
Height: 4-6"
Bloom Date: Early April
Hardiness: Zones 4-8

Tulipa kolpakowskiana

A good naturalizer, the delicate flowers are yellow with a red blush on the outer surface of the petals.
Date of Introduction:Circa 1877
Color: Yellow
Height: 8"
Bloom Date: April/May
Hardiness: Zones 3-8

Tulipa linifolia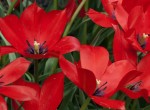 Bright red petals contrast with the black hearts of the flowers and are echoed by the red edge of the leaves.
Date of Introduction: Circa 1884
Color: Scarlet red
Height: 6"
Bloom Date: May
Hardiness: Zones 4-8

Tulipa saxatalis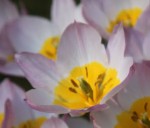 As the species name saxatalis suggests, this tulip likes rocks and is native to the rocky fields of Crete. One to four slightly fragrant flowers are borne on each stem above glossy green leaves. Colors range from rosy pink to pale lilac with yellow hearts edged with white. Plants are stoloniferous and will naturalize where it is happy.
Date of Introduction: Circa 1825
Color: Pale lilac
Height: 6-8"
Bloom Date: April
Hardiness: Zones 3-8
Like other bulbs, species tulips need good drainage and will not do well in damp soil. Plant bulbs in full sun, 4-5" deep, and 6" apart. They make an eye catching statement when planted in drifts.