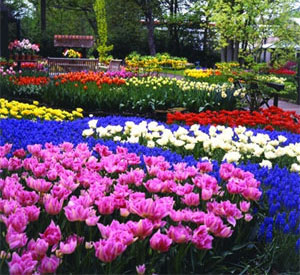 As beautiful as spring bulbs are in the garden, they can be beautiful cut flowers. I plant some that I never cut and others for the sole purpose of cutting and using in arrangements. When I cut the flowers from bulbs I never take foliage with them because to do so would diminish the flowers for the next year. There are usually other plants in the garden that can provide foliage and I rely on them to provide greenery. Best yet, all these bulbs are easy to grow.
Here are five of the best spring flowering bulbs for the vase.

Daffodil (Narcissus)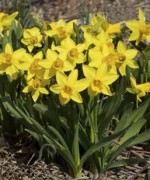 There is a large variety of daffodils to choose from so finding one that suits your needs should be easy. Don't stop with one kind; get some yellow, some white, some with pink cups. Try some that have several flowers on each stem. Include a miniature variety to make petite arrangements. To ensure a long supply, pick varieties that bloom early, mid, and late season.

Tulip (Tulipa)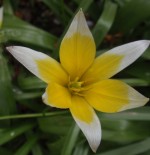 The bright colors of tulips are always welcome. Reds, pinks, purples, white, and bicolored flowers can add zing to any bouquet and the graceful way they bend can create a beautiful line arrangement. Try some of the more exotic varieties like the green, lily flowering, fringed, or peony flowering ones. If like to do miniature arrangements, try some of the species tulips. Buy several varieties with different bloom dates to provide a long lasting supply. For best flowers, replant tulips every year, except the species tulips that will return in full force year after year. And if you replant each year, you can cut tulip foliage with the flowers.

Grape Hyacinth (Muscari)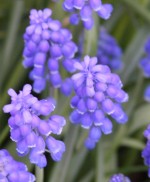 The small fragrant spikes of grape hyacinths are perfect for small arrangements. The blue flowered varieties are the most familiar but pink, white, and yellow varieties are also available. The electric blue color of some is especially striking with yellow narcissus. Bulbs bloom in mid spring and are about 6" tall.

Dutch Iris (Iris xiphium hybrids)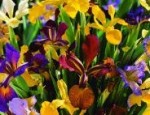 The light, airy flowers of Dutch Iris stand out in any bouquet. Flowers range in color from bright yellow to dark blue with many shades in between. Many have distinctly different colored standards and falls with contrasting blotches. 'Eye of the Tiger' for example, has violet-blue standards and mahogany-bronze falls with yellow blotches. It is a 'WOW' sort of flower but less exotic combinations are also available.

Lily of the Valley (Convallaria)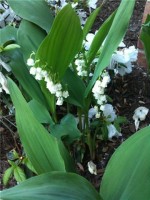 Traditionally given on May 1st to a loved one in France, Lily of the Valley is one of the most delicate and dainty of all bulbs. Although white is the most common color, the flowers may also be light pink. The slender stems need no arranging, just put a bunch in a small vase and let them fill the room with their fragrance. No wonder that lily of the valley are the dream of many brides for their bridal bouquet.
All of these bulbs are good garden plants and can provide a beautiful display in the garden as well as an excellent source of cut flowers. If you don't have room for a cutting garden and don't want to ruin a good show elsewhere, tuck clumps of bulbs in out of the way places where their absence will not be noticed when you cut for the vase. They will do well around shrubs and trees or even a garbage can or utility shed.