As I go about deadheading my daylilies I admire each one and appreciate the differences, great and small. I would not give up any of the cultivars I have and I am constantly tempted to buy more. But over the years I have noticed that the differences between some cultivars are very slight and I wonder what more I could get in a daylily if I went out looking. About eight of mine were from a neighbor and I don't know the names of any of them or how much my neighbor paid for them. The other 50 or so I bought myself and know that I paid under $10 for each, and between $5-8 for most. When I heard about a $250 daylily I stopped dead in my tracks and decided that I would take a look, just a look, at expensive daylilies, and see what money can buy.
I made a selection of daylilies at different price points from $100 up. The good news is that there are many daylilies to choose from at the $100 price point. Here's 'Red Slippers' at $100, with 5 ¼" flowers on 32' scapes. Note the ruffled edge, and the round shape.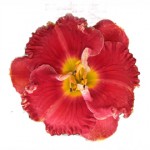 'Singing Cowboy' fetches $150 and has a bold apricot triangular watermark and a red halo. The 5 ½" flowers are edged with gold fligree and are borne on 38" scapes.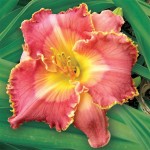 At $165, 'Caribbean Sunrise' has 6 ½" flowers on 30" scapes and sports a large ruffled edge of ivory cream. The flower has a very round and full form, a heavy substance, and is lightly creped. The colors are said to be sunfast.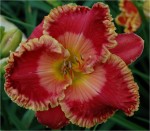 'Unraveling a Mystery' at $200 is my personal favorite although I wonder if the color shown in the photo is true. The 5" flowers, borne on 43" scapes, are gently reflexed and are pleated with ruffles and scallops. The large watermark adds to the blend of colors.

For $50 more ($250) 'Emerald Dream' comes with 5" flowers on 30" scapes. The form is round and full; the petal edges ruffled, and the substance is heavy.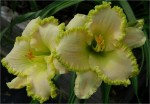 Some collectors have themes and might be tempted to buy this on the basis of its name, 'Elvis', but the price tag of $300 makes it too pricey for most. The flowers are large, 6 ½" , are borne on 32" scapes, and the petals have gold edges.
'Mary Alice' is listed by one nursery at $350, another at a mere $200. I include it because I couldn't find any other daylily for more than $300 by anyone (but there probably are some). It boasts 6 ½ " flowers on 34" scapes and may produce more branches and buds than the rest. The flowers open flat and are edged with yellow. Perhaps this is the bargain of the lot.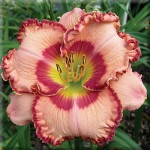 Most of the daylily nurseries/breeders talk about good branching and bud count and some indicate that the cultivar is fertile, an important consideration if you are buying the plant for a breeding program. Judging from the appearance and descriptions it seems that breeding efforts are going towards round form, ruffles, and interesting edges. Nothing was said in any of the descriptions about fragrance (yes, some daylilies have a lovely scent) or disease resistance (rust can be a significant problem) so they must not be of interest to most daylily lovers.
There are a huge number of beautiful daylilies for well under $100 and a large number at about $100; very few over $200. I am definitely in the $5-10 range and might splurge on a $15 daylily but I can see that there are some subtle differences between cultivars that might make them worth the high prices they fetch by the connoisseur. Still, next time I go out daylily hunting I will certainly take a closer look at the most expensive daylily the nursery grows, probably $25 in my neck of the woods.
So, the answer to the title question? $5.00 or less. Look at the daylily in the photo at the top of this article; it was only $5.00.