The great thing about using herbs as sweetness enhancers is that they don't add calories. You can use them alone or with sugar or other sweeteners to heighten the sweetness with added flavor. Of course, the herbs all have other uses as well and can be used in numerous ways. They make good garden plants and some can even be grown well in pots. 

Angelica (Angelica archangelica)


The sweet licorice flavor in the fresh or dried leaves stems, root, and seeds enhances many foods. Try fresh leaves in leafy salads, fruit soups, and meaty stews, or dried leaves in pastries or desserts. Use the ground up root in breads, cakes, and cookies. Best of all, try slices of fresh stem in salads.
Type: Herbaceous perennial
Height: 5-8'
Bloom: Tiny white flowers in compound umbels in early summer
Light: Partial shade
Soil: Fertile, moist, well-drained
Hardiness: Zones 3-8

Beebalm (Monarda didyma)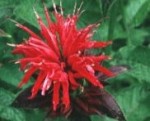 The delicate taste of citrus is a nice addition to beverages, salads, fruits, and meats. Use the flowers in salads, and the dried leaves in teas. Fresh leaves are delicious with poultry, pork, or beef, Add fresh leaves to yoghurt with a bit of honey and fruit for a nutritious and low calorie snack.
Type: Herbaceous perennial
Height: 3-4'
Bloom: Bright red flowers are clustered in whorls at the top of stems in late summer
Light: Full sun to shade
Soil: Fertile, humus-rich, moist
Hardiness: Zones 4-9

Lemon Verbena (Aloysia triphylla)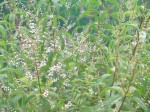 Fresh or dried leaves add a lemony flavor to salad dressings, jams, puddings, quick breads and beverages, and are especially good in frozen desserts. A lemon-lime tea can be made from the dried leaves.
Type: Tender shrub, often grown as houseplant
Height: 10-15'
Bloom: Tiny lavender flowers borne in spikes and racemes in late summer and fall.
Light: Full sun
Soil: Fertile, moist
Hardiness: Zones 9-10

Mint (Mentha spp.)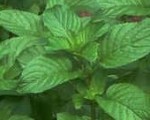 Spearmint (Mentha spicata) is considered by experts to be more versatile than mint for cooking purposes because of its milder flavor. Mint makes a good tea, pairs well with chocolate, and adds a refreshing taste to fruit salads and sparkling waters. If you like bourbon, try a mint julep.
Type: Herbaceous perennial
Height: 8-24″ depending on the species
Bloom: Tiny white, pink or lavender flowers in wholrs or terminal spikes in late summer
Light: Full sun to partial shade
Soil: Fertile, moist, well-drained
Hardiness Zones: Zones 3-11 depending on the species; spearment tolerates heat better than peppermint, but the latter is more cold hardy.

Rosemary (Rosmarinus officinalis)

Rosemary is a good garden plant even if it had no other value. Its time honored use as a culinary herb just makes it better. In addition to its traditional use with meats, and vegetables its unique pungent flavor is good in breads, and fruit salads, compotes, and tarts.
Type: Tender perennial shrub
Height: 5-6'
Bloom: Small blue flowers grow in clusters along the branches in late winter
Light: Full sun
Soil: Average, well-drained
Hardiness: Zones 8-10
These versatile herbs will enhance not only the sweetness of the foods they are with, but also the décor of the garden. Lemon verbena, rosemary, and mint do well in pots, and lemon verbena can be brought in doors as a house plant in winter. Rosemary and mint are very versatile culinary herbs that can be used in a multitude of ways and are the staples in most herb gardens.