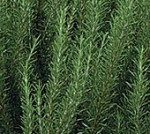 Beautiful hair is a virtue that every woman wants. They spend mega-bucks every year at the beauty parlor having their dyed, curled, straightened, conditioned, cut and styled. There are some women, however, who go for a more natural look and do their own. Gardeners can even grow some herbs that can be useful to give highlights, add luster, and perhaps tint gray hair
Here are four herbs that can help you take care of your hair. You probably grow some of them already.

Rosemary (Rosmarinous officinalis)


Known for its culinary attributes, rosemary is a very versatile herb and makes a beautiful garden plant in warm climates. A rinse made with sprig of rosemary steeped in a cup of boiling water for 5-10 minutes and applied to the hair after shampooing brightens the hair of brunettes. Rosemary is often combined with sage (see below).
Type: Tender perennial shrub
Height: 5-6'
Bloom: Small blue flowers grow in clusters along the branches in late winter
Light: Full sun
Soil: Average, well-drained
Hardiness: Zones 8-10

Sage (Salvia officinalis)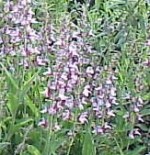 Sage and rosemary are sometimes mixed to produce a dye for grey hair. The dye is made by combing equal amounts of the two herbs and steeping them together in a cup of water. The dye can be kept in the refrigerator and used on gray hair before shampooing. This procedure must be repeated for several weeks before a color change is noted. Warning: hair may take on a greenish tint if treatment is discontinued.
Type: Perennial
Height: 20-30"
Bloom: Small purple, pink, blue, or white flowers are produced in whorls in June.
Light: Full sun
Soil: Moderately fertile, well-drained
Hardiness: Zones 4-8

Chamomile (Matricaria recutita)


Normally associated with a soothing tea, chamomile flowers can be used to create golden highlights in brown hair. A rinse can be made by steeping ½ cup chamomile flowers with 1 cup boiling water for 30 minutes and used after shampooing. Chamomile flowers can also be made into a conditioner by mixing them with an equal amount of olive oil in a jar and letting them sit on a windowsill for a couple of weeks.
Type: Annual
Height: 2-3'
Flowering Time: Late spring through late summer
Light: Full sun to partial shade
Soil: Sandy, well-drained

Basil (Ocimum basilicum)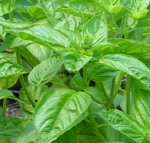 It is hard to believe that this pesto staple is also good for the hair, but it can be added to either the rosemary or chamomile rinses described above to bring luster to the hair.
Type: Annual
Height: 1-2'
Bloom: Small white flowers are produced in racemes in summer.
Light: Full sun
Soil: Fertile, moist, well-drained.
All of these herbs are popular for their culinary virtues and so rightful claim a spot in most herb gardens. Rosemary is tender but can be grown in a pot and brought inside during the winter. Chamomile flowers, sage and basil leaves can be harvested and dried for later use. When using any of the herbs in a rinse, be sure the rinse is cool and strained before pouring it over the hair; also, catch the rinse and pour it over the hair several times to get the maximum benefit.