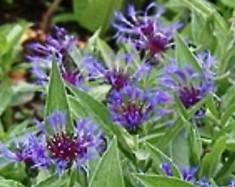 The genus, Centaurea, belong to the  aster family, Asteracea, and contains about five hundred species and including both annuals and perennials that are useful garden plants. They can all be recognized by the overlapping scales immediately beneath the petals. Popular annuals include bachelor's button (C. cyanus), purple basket flower (C. Americana), sweet sultan (C.moschata), and dusty miller (C. cineraria). Six perennial species are available and make a good choice for an informal garden where their attractive foliage and colorful flowers can be fully enjoyed.
Perennial Centaureas are cool weather plants and prefer full sun and well-drained, sweet soil but most tolerate dry soils. All can be propagated by division. Several make excellent cut flowers and some can be dried.

Persian Cornflower (C. dealbata)


Deeply fringed lavender to rosy pink flowerheads are 2.5-3 inches across and are borne singly on slender stems for about four weeks in spring. The leaves are up to two inches long and coarsely divided. The branched plants may need staking where nights are warm.
Size: 18-24" H x 18" W
Bloom Time: Late spring
Hardiness: Zones 4-7
Outstanding Selection: 'Sternbergii' (more compact, longer flowering, flowerhead centers white)

Knapweed (C. hypoleuca)

This species is very similar to C. dealbata but has grayer leaves, smaller flowerheads (1.5-2" across) and is more compact.
Size: 18-24" H x 18" W
Bloom Time: Early summer
Hardiness: Zones 4-7
Outstanding Selection: 'John Coutts' (also listed as cultivar of C. dealbata; deep rose pink flowers; sometimes invasive)

Giant knapweed (C. macrocephala)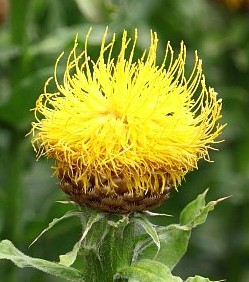 A native of Armenia, this bold course plant produces plump rusty buds that open to bright lemon yellow flowerheads, three to four inches across. The flowers are three to four inches across and are held stiffly on strong straight stems. The saw-toothed leaves are five to six inches long. An excellent cut flower, lasting up to ten days in the vase.
Size: 3-4; H x 2' W
Bloom Time: Summer
Hardiness: Zones 3-7

Mountain Bluet (C. montana)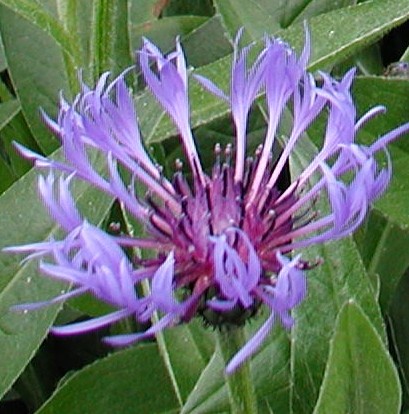 This stoloniferous native of Europe forms clumps of wool stems bearing leaves five to seven inch long and covered with silvery hairs. The spidery flowerheads are born singly on terminal stems and are 1.5 to 3 inches across. They are deep blue with rose centers and have deeply fringed marginal florets. The bracts at the base of the flowerheads have a black margin, adding another dimension to the beautiful display. Mountain bluet can tolerate more shade than other species but does not tolerate drought. It may become weedy in cool climates.
Size:18-24" H x 12" W
Bloom Time: Early summer to early fall
Hardiness: Zones 3-8
Outstanding Selections:
'Alba' (white flowerheads)
'Rosea' (Pink flowerheads)
'Violetta" (Amethyst flowerheads)

Hardheads (C. nigra)


A native of Europe, hardheads escaped cultivation and have naturalized in fields in eastern US. The dark violet flowerheads are .8 x 1.2 inches across and composed only of disc florets. Dark brown bracts surround the flowerheads. The leaves are two to ten inches long, lobed, and may be covered with short gray hairs. Somewhat weedy so suitable for wildflower gardens.
Size: 1-1.5" H x 1' W
Bloom Time: Summer
Hardiness: Zones 3-7
Outstanding Selections:
'Rivularis '(more compact)
'Variegata' (leaves with creamy white edges)

Pink Knapweed (C. pulchra)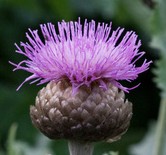 Although not common in  US gardens, this native of eastern Europe is an excellent garden plant. Large silvery buds open to purplish-pink flowerheads up to three inches across. The flowerheads are surrounded by brown papery bracts and are carried stiffly on straight stout stems. The large leaves are gray-green and have jagged edges.
Size: 2-3' H x 2' W
Bloom Time: Summer
Hardiness: Zones 4-7