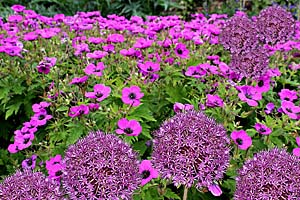 Two shades of purple make this a striking combination border during late spring and early summer. Armenian cranesbill produces dark magenta-purple cupshaped flowers with black centers on a large loose mound of deeply dissected mid-green leaves. Star of Persia's huge balls of violet star-shaped flowers are up to 12" across and emerge from blue-green strap-shaped leaves that begin to disappear before the flowers are fully open. Even after the flowers fade the spherical seed heads remain attractive all through the growing season into winter. Plant in well-drained soil and full sun.

Armenian Cranesbill (Geranium psilostemon)

A native of northeastern Turkey, this herbaceous perennial is the largest of the cranesbills. The heart shaped basal leaves are five to seven inches in length, and cut to nearly 4/5ths of their length. The flowers are 1.5 to 2 inches across and have black veins as well as black center.
Bloom Time:
Late spring to early summer
Size:
Hardiness:

Star of Persia (Allium cristophii)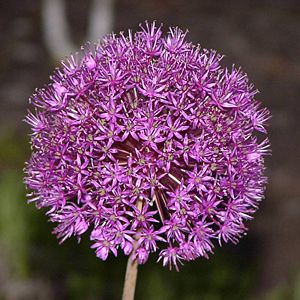 A native of Turkey and Afghanistan, Star of Persia is a perennial bulb and one of the showiest alliums. There are other alliums that are taller but none with larger flower heads. The stems and margins of the leaves are covered with white hairs giving rise to the common name. Plants may form substantial clumps, reseed and naturalize. They are drought tolerant once established and susceptible to rot if overly moist soils.
Bloom Time:
Late spring to early summer
Size:
Hardiness: