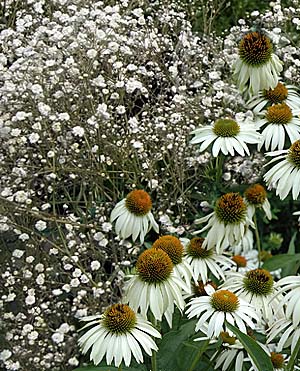 This middle of the border combination of white on white features a delicate white cloud of baby's breath and the large, sturdy daisy-like flowers of white cone flower. Although the color is the same the contrast provided by the difference in texture and size makes the combinations eye-catching. The cone flower begins blooming before the baby's breath makes its appearance and may continue after the baby's breath finishes. Both plants like full sun and well-drained soil.

Baby's Breath (Gypsophilia paniculata) 'Perfecta'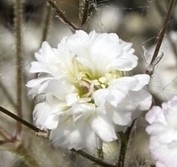 Baby's breath is commonly used by florists to fill in the spaces and tie everything together in an arrangement. Its delicate texture and white color create a beautiful cloud that can be used in the garden the same way. The cultivar 'Perfecta' is especially attractive and useful because of its large double flowers and exceptional vigor. The 4" long gray-green leaves add to the effect.
Bloom Time: Mid-summer
Size: 48" H x 24"
Hardiness: Zones 3-7

White Cone Flower (Echinacea purpurea) 'White Swan'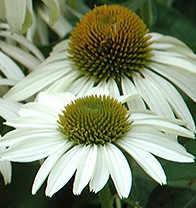 A native of central United States, coneflowers are one of the best garden plants available. The plants are tough and produce flowers over a long bloom season even in high heat. The most common ones are pink but the white ones like 'White Swan' exhibit the same size, vigor, and large flowers as the pink varieties.
Bloom Time: Summer
Size: 40"H x 18" W
Hardiness: Zones 3-8