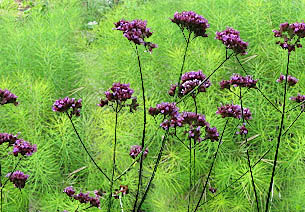 A "see through" plant like Brazilian verbena creates a beautiful sight when paired with the delicate foliage of narrow leaf blue star.  The action starts with the emergence of the delicate blue star foliage in the spring followed by the appearance of clusters of powdery-blue flowers in May and June.  In mid-summer the verbena flower heads make their way into the scene and remain as the blue star foliage turns golden yellow in the fall.  Both plants do well in full sun to partial sun but prefer the former.  Soil should be moderately moist but well-drained.
Brazilian Verbena (Verbena bonariensis)

A native of South America, this tender perennial has become naturalized in the United States from South Carolina to Texas. It grows rapidly, forming attractive clumps that send up wiry stems bearing panicles of rose-violet flowers. It reseeds so comes back year after year even in areas where it does not survive the winter.  For the tallest plants, grow in rich soil or fertilize heavily.  To increase the branching, cut the plant back.  There is some concern that this verbena could invade wetlands.
Bloom Time: Summer to frost
Size: 3-4' H x 3" W
Hardiness: Zone 7-10
Arkansas Blue Star (Amsonia hubrechtil)
Arkansas blue star is a three season plant.  The attractive foliage emerges in spring in a feather clump consisting of  bright green, thread-like leaves that turn a beautiful golden yellow in fall.  The star-shaped blue flowers are produced in terminal clusters in late spring.   The best fall color is produced in full sun and plants grown in too much shade tend to flop.    Cut plants back 6" after flowering to improve shape.
Bloom Time: April-May
Size: 2-3' H 2-3' W
Hardiness: Zones 5-8