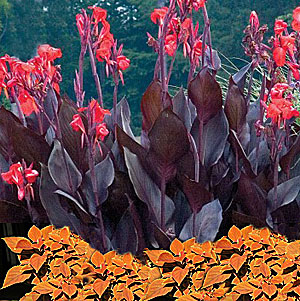 You don't have to wait until fall to wallow in the luscious black and copper colored combination. The tall canna 'Australia' provides deep burgundy black leaves that contrast with its red flowers while the coleus 'Rustic Orange' at its feet create an echo of the canna's flowers with its foliage. Even before the canna blooms its foliage provides a good contrast with the coleus for long season interest. Both plants grow well in full sun and moist, well-drained soil.

Canna 'Australia'

This handsome canna is especially prized for the dark burgundy-black leaves that keep their color well all season. The red flowers are carried in racemes on burgundy-black stems from mid-summer into fall. Since cannas are tropical they are not hardy in zones six and colder but dug up, stored, and replanted each year.
Bloom Time:
Size:
Hardiness:

Coleus (Solenostemon scutellariodes) 'Rustic Orange'

'Rustic Orange' is one of those coleuses that do well in full sun. It boasts subtle shades of orange from reddish when the leaves first appear to muted orange as they mature. Each leaf is edged with a narrow band of chartreuse which adds a delicate look. Coleus blooms but most people grow it for the foliage and remove the flowering stems as they begin to develop.
Bloom Time:
Size:
Hardiness:
Zones 10-11; grown as an annual