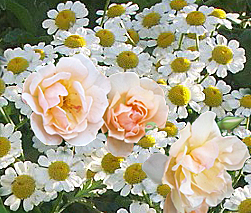 Growing herbs and roses together have a long tradition and this duo combines a lovely Noisette rose with the familiar herb, German chamomile known for the tranquilizing tea made with its flowers. Rose 'Crepuscule' begins flowering in spring with rich apricot blossoms that slowly fade to buff, and continues blooming throughout the summer and into fall. German chamomile comes into bloom in summer adding its fragrant flowers and delicate foliage to the scene until fall. Plant in full sun, and moist but well-drained soil.


Rose 'Crepuscule'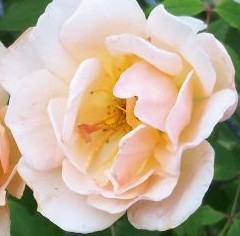 With flowers over three inches across and a with a strong, rich fruity, 'Crepuscule' is one of the most desirable roses for the garden. The semi-double flowers are borne singly or in clusters of three to five on nearly thornless canes. The long leaves are crimson at first before turning dark green.
Bloom Time: Almost continuously from spring into fall
Size: 8' H x 5' W
Hardiness: Zones 7-9

German Chamomile (Matricaria recutita)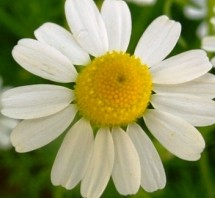 A native of Europe and Asia, German chamomile has naturalized in North America where it can be found growing along roadsides and in open areas. Both the foliage and flowers are aromatic but the flowers are usually harvested to make medicinal tea. Roman chamomile (Chamaemelum nobile) is a perennial, shorter, and has similar flowers that are less sweet and a tad bitter. Although an annual, German chamomile reseeds itself and is likely to return year after year.
Bloom Time: Summer to fall
Size: 12-24" H x 8-12" W
Hardiness: Zones 2-8