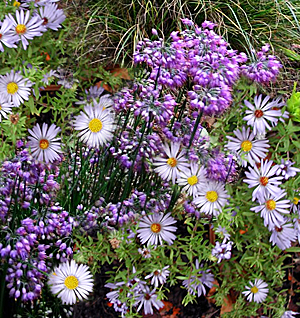 Asters are a traditional fall favorite but what about bulbs? We rarely think about fall blooming bulbs and, in truth, there are not a lot of them. This combination for a sunny spot combines a late blooming aster with a fall blooming blub to create a monochromatic color scheme in shades of blue and lavender. Contrast is provided by the differences in size, shape and texture of the flowers. Both plants are easy to grow in average, medium-moisture, well-drained soil.


Fragrant Aster (Aster oblongifolius) 'October Skies'

Compact, bushy, and covered with small sky blue flowers all fall, this fragrant aster blooms long after most plants are done for the season. The leaves are dark green and fragrant when crushed. Plants spread slowly by rhizomes and need pinching before July 4th to encourage good branching and more flowers.
Bloom Time: Fall to late fall
Size: 12-18" H x
Hardiness: Zones 3-8
Ornamental Onion (Allium thunbergii)' Ozawa'

Growing in attractive clumps, 'Ozawa' produces clusters of florets 1-2" in diameter atop thin scapes during September and October. The grass like leaves are attractive all season and turn tawny orange after the first frost . Because the leaves have an onion aroma when crushed they are usually avoided by deer and rabbits.
Bloom Time: September-October
Size: 12" H x 6-8" W
Hardiness: Zones 3-8