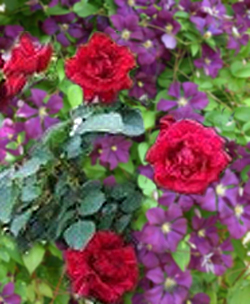 The climber Don Juan is one of the best red climbers but can be made even more exciting with the addition of clematis 'Etoile Violette'. The vivid contrasting colors in rich jewel tones can make a garden wall, trellis, or arbor the focal point of the garden. With an abundance of long lasting flowers this duo will please for a long bloom time in summer. Both plants like full sun and fertile, medium moist, well-drained soil. Clematis like cool feet so plant it in the shade of the rose and let it grow out into the sun. They will both appreciate a mulch and a good dose of fertilizer throughout the season.

Clematis ' Etoile Violette'

Belonging to the Viticella group of clematis, 'Etoile Violette' (meaning violet star) is a deciduous climber with relatively small flowers that are produced in abundance on the current year's growth. The flowers are three to four inches across and have four to six dark purple petals surrounding a mass of gold stamens. 'Etoile Violette' begins blooming in early summer with periodic rebloom until September and is considered one of the most profuse bloomers. Cut back to eight to twelve inches in late winter to early spring to encourage good growth and flowering.
Bloom Time: Summer
Size: 10-12' H x 3-6' W
Hardiness: Zones 4-8

Rose 'Don Juan' Climber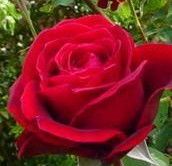 With an American Rose Society rating of 8.9 (on a 10 point scale) Don Juan is considered one of the best red climbers. Its crimson flowers are four to five inches across and have over thirty petals and a strong sweet scent. The plant is vigorous, has an abundance of prickles, and tolerates heat well. Deadhead to keep it blooming all summer.
Bloom Time: Summer
Size: 8-10' H x 3-6' W
Hardiness: Zones 6-9