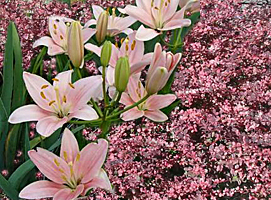 'Rose Glow' barberry starts early in the year with its flush of new grown that ranges from dark purple to rosy pink. In late spring or early summer the large light pink flowers of Asiatic lily, 'Chianti', join the barberry to make a lovely combination in a sunny border. 'Chianti' blooms for several weeks and then gracefully declines but 'Rose Glow' barberry will remain until winter with its colorful foliage and bright red berries that are attractive to birds. The fine texture of the barberry's foliage contrasts nicely with the smooth texture and large size of 'Chianti' flowers. Both plants grow well in full sun and average, medium moist, well-drained soil.

Asiatic Lily (Lilium) 'Chianti'

'Chianti', like other Asiatic lilies, is one of the first true lilies to bloom in the summer. Their upward facing blossoms are borne in loose clusters on tall stems that are clothed in small linear leaves. With its heavy bud count and strong stem that never needs staking 'Chianti' is one of the most popular Asiatic lilies. Flowers should be removed as soon as they fade but stems and leaves should be allowed to remain until frost so the bulb can build up reserves for future flower production.
Bloom Time: Late spring to early summer
Size: 36-40" H x 12" W
Hardiness: Zones 3-9

Barberry (Berberis thunbergii f. atropurpurea) 'Rose Glow'
This deciduous bush is dense, compact, and well branched. Branches are covered with thorns and small leaves ranging in size from half to one and a half inches long and providing color from rosey pink to purple. Small inconspicuous yellow flowers appear in spring followed by red berries in fall but the foliage is the main attraction.
Bloom Time: Spring but foliage provided color from spring until fall
Size: 3-6' H x 4-7' W
Hardiness: Zones 4-8