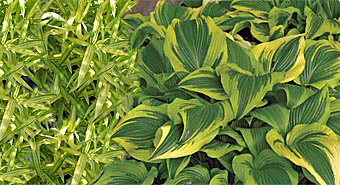 A shady or partly shady area of the garden with moist soil is perfect for this handsome combination. In spring and early summer the yellow variegation of the hosta echoes the yellow stripes of the dwarf bamboo. As summer comes the margins of the hosta turn creamy white and the bamboo becomes greener but the striking contrast between the textures of the two plants will continue through the season.
Dwarf Greenstripe Bamboo (Arundinaria viridistriata)

A native of Japan this dwarf bamboo is evergreen and quickly grows to its maximum. The grass-like leaves are up to 5 inches long and are best cut back each winter to encourage the growth of fresh new golden foliage in the spring. Although it tolerates dry conditions it thrives in moist soil. Like other bamboos, dwarf greenstripe bamboo can become invasive and is best grown in a container sunk into the ground so its growth is restrained.
Bloom Time:
Size:
2-3' H x spreading by runners
Hardiness:
Hosta montana 'Aureomarginata'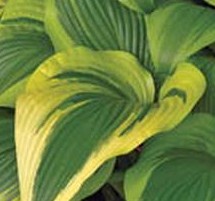 With classic good looks this handsome variegated hosta emerges early in spring with wide irregular yellow margins that gradually change to creamy white. The huge leaves are 12" wide and 15" long, slightly cupped and usually have undulating margins that turn up at the tips. A mature plant is a striking mound up to 42" tall and 45" wide. Light lavendar flowers are borne on tall scapes in mid-summer.
Bloom Time:
Size:
Hardiness: