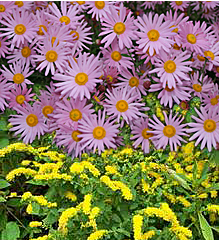 Mid-summer into fall can be a difficult time in the garden but not with this combination. Although most mums bloom in the fall, 'Clara Curtis' begins its show early and continues up until October. Its flowers have salmon pink petals surrounding a fuzzy yellow disc that is echoed by the bight yellow wands of the fuzzy goldenrod flowers as fall arrives. The combination lasts well into fall filling the garden with color and attracting butterflies. Both plants prefer full sun and average, well-drained soil.

Hardy Garden Chrysanthemum (Chrysanthemum x rubellum) 'Clara Curtis'

This long blooming chrysanthemum is a bushy perennial with loose sprays of daisy-like flowers 2-3.5" across. Like other mums, the light green foliage is deeply lobed. Plants grow quickly into substantial clumps that should be divided yearly.
Bloom Time:
Mid to late summer into fall
Size:
Hardiness:

Dwarf Goldenrod (Solidago sphacelata) 'Golden Fleece'

Unlike the roadside goldenrods that commonly fill the landscape in fall, 'Golden Fleece is compact and short in stature. Its densely packed flowers are borne in pyramidal sprays on arching stems. Goldenrods, including 'Golden Fleece, do NOT induce hay fever but they bloom at the same time as the less showy plants that do and are often falsely blamed.
Bloom Time:
Size:
Hardiness: