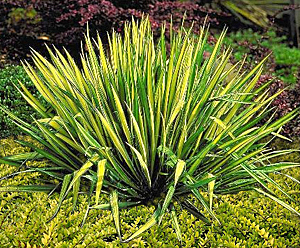 Year round color is supplied by this gold drenched duo. Both are evergreen and but have leaves that contrast in texture, form, and size. While the leaves of Yucca 'Golden Sword' are long and slender, those of honeysuckle 'Baggesen's Gold' are small and dainty. With arching branches, honeysuckle 'Baggesen's Gold' produces a mound in the border while Yucca 'Golden Sword' echoes the mounding habit with the gentle bend of some of its leaves. In mid summer, Yucca 'Golden Sword' sends up a 6' stalk with cream colored flowers, adding height to the garden. Both plants grow well in full sun and medium moist, well-drained soil.

Variegated Yucca (Yucca filamentosa) 'Golden Sword'


Not as stiff as many yuccas, 'Golden Sword' provides a softer contrast to other plants in the border. The leaves have a bright gold central variegation with various shades of blue-green on the edges. The tall, stiff, flowering stalk with its bell shaped flowers adds a dramatic architectural element.
Bloom Time: Mid summer
Size: 1-3' H x 6' W (annual flowering stalk 6' tall)
Hardiness: Zones 5-11

Honeysuckle (Lonicera nitida) 'Baggesen's Gold'


Grown in full sun this spreading shrub is gold but grown in dappled shade it takes on a chartreuse color. The small leaves are reminiscent of boxwood and like boxwood, it can be sheared and shaped. Watering during times of drought may be necessary to prevent leaf scorch.
Bloom Time: Not relevant
Size: 5' H x 5' W
Hardiness: Zones 6-9.