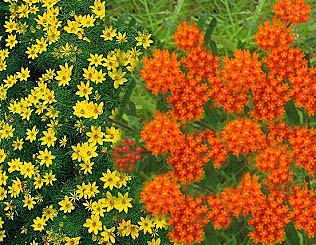 Heat up a sunny border in mid-summer with this sizzling combination of yellow and orange. The coreopsis is a golden yellow that seems to shine with inner warmth. The butterfly weed can vary in color from yellow to orange so search out the orange color to really make the combination pop. The coreopsis will bloom before the butterfly weed flowers appear and will continue to bloom long afterwards but while they bloom together, enjoy the vibrant combination. The round daisy-like coreopsis flowers contrast nicely with the fine textured the butterfly weed flower heads. More textural contrast is provided by the very fine foliage of the coreopsis and the coarse leaves of the butterfly weed. Both plants like full sun and dry to medium-moist soil that is well-drained.

Butterfly Weed (Asclepias tuberose)
A native of Eastern United States, butterfly weed gets its common name because it is a butterfly magnet; get ready to enjoy fritillaries as well as swallowtails, painted ladies, red admirals, and hairstreaks as they come for nectar. Monarch butterflies may come to lay eggs so be on the look out for monarch caterpillars when the eggs hatch. The flowers lead to large attractive capsules filled with seed and add interest to the garden. Plant butterfly weed where you want it to remain because it has a deep taproot and doesn't transplant well.
Bloom Time:
Size:
Hardiness:

Threadleaf Coreopsis (Coreopsis verticiliata) 'Zagreb'

'Zagreb' coreopsis is a rhizomatous perennial known for its long bloom time and very fine foliage. The flowers are 1-2" inches across, borne singly but profusely on slender stems. When flowering begins to slow down by August shear the flowers off the plants to encourage reblooming.
Bloom Time:
Late spring to August with rebloom until frost if deadheaded
Size:
Hardiness: