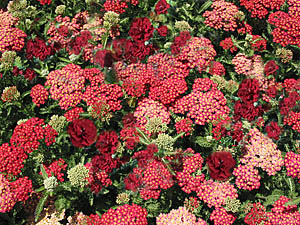 For some plants, changing color during the bloom time is a problem but this is not the case for yarrow 'Paprika' or Dianthus 'King of the Blacks'. 'Paprika' starts out dark red and turns light pink buff as it matures. 'King of the Blacks' starts out dark red and gradually becomes almost black. As the colors change during the summer the flowers of the two plants echo each other in ever changing ways. Beautiful! This exciting combination is happy in full sun and average, well-drained soil.


Qeshm Common Yarrow (Achillea millefolium) 'Paprika'
A native of the Mediterranean, this vigorous tough perennial grows spreads by rhizomes and eventually forms large clumps. The finely dissected leaves are fern-like and have a spicy fragrance. The flowers are produced on 18-24" stems in dense, flattened, compound corymbs up to 2-3" across.
Bloom Time:
Size:
Hardiness:

Ahfir Hardy Carnation (Dianthus caryophyllus) 'King of the Blacks'

The name of this Dianthus is misleading because the flower color is deep red, or purple, but since it is the darkest Dianthus available it can be considered "black". The plants form a low compact mound of evergreen grass-like grey-green leaves and produce fragrant, double flowers on upright stems that can be 20" high. Like all carnations, this one is considered an annual or short-lived perennial.
Bloom Time:
Size:
Hardiness: