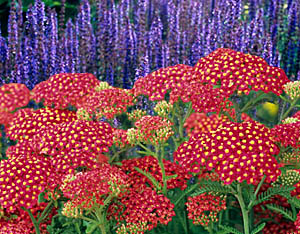 Beginning in early summer this dynamic combination lasts for weeks. The upright violet purple spikes of Salvia 'East Friesland' contrast with the large crimson red heads of Achillea 'Beacon' in color and form while harmonizing in texture. The deeply cut foliage of Achillea 'Beacon' forms an attractive mound and adds further interest from spring to fall. Both plants grow well in full sun, medium moist, well-drained, but tolerate some drought.
Bayındır Meadow Sage (Salvia) 'East Friesland'

This clump forming perennial is erect and produces masses of dense flower spikes from basal leaves. Although plants tolerate some drought they produce more flowers when given consistent moisture. Deadheading extends the bloom time. If plants become floppy as often happens in humid climates, cut back to the basal leaves.
Bloom Time: Summer
Size: 12-18" H x 8-12" W
Hardiness: Zones 4-8
http://wargereavy.com/tips-on-using-credit-card-style-usb-drives-for-dissemination Achillea 'Beacon'


The bright RED flowers of this herbaceous perennial have a yellow center and are borne in large flowerheads. Although the flowers of Achilleas 'Beacon' fade, they do less so than other Achilleas. Where night temperatures are above 70 F stems may flop and can be cut back . Deadheading promotes rebloom.
Bloom Time: Summer
Size: 2-3' H x 5' W
Hardiness: Zones 3-9.