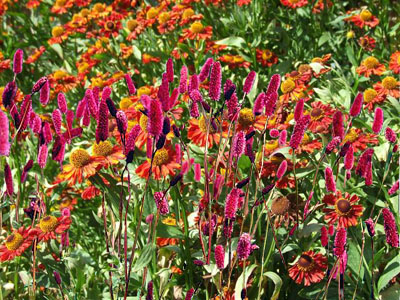 Enliven the mid-border of the late summer garden with this perennial combination of sneezewort 'Coppelia' and Menzies' burnet. The show begins in mid summer when the burnet begins to bloom and reaches a climax when the flowers of 'Cappelia' join the scene and continues into mid fall. The rich autumn colors of the flowers complement each other while the shape and texture of the flowers provide contrast. Both plants grow well in moist, well-drained soil and full sun, although the burnet can take some shade. The flowers of both plants attract butterflies.
Sneezewort (Helenium (hybrid) 'Coppelia'


The daisy-like flowers are about two inches across and have dome like centers yellow-orange centers. The dark green lance-shaped leaves are up to six inches long and are borne on stiff, erect stems. Plants can be cut back in early summer to produce stocker plants and increase branching and flowering.
Bloom Time: Late summer into fall
Size: 2-4′ H x 1-1.5′ W
Hardiness: Zones 3-8
Menzies' Burnet (Sanguisorba menziesii)


This native of Alaska forms a low mound of deeply divided grey-green leaves. During the summer long slender stems emerge from the foliage bearing spikes of small maroon flowers. Although rhizomateous, plants are not known to be invasve.
Bloom Time: Summer
Size: 2'5-3′ H x 1.5-2′ W
Hardiness: Zones 2-9