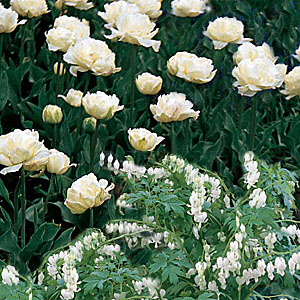 For a semi-shaded area in a white garden this late spring combination features the same color with contrast provided by the shape, texture and size of the flowers and leaves. The large, smooth, satiny petal of the tulip increase the delicacy and fragile look of the small heart-shaped flowers of the bleeding heart while the heavy gray-green leaves of the tulip create a subtle foil for the fern-like foliage of the bleeding heart. The tulips will go dormant after blooming, as will the bleeding heart in the South, so this combination is best planted with annuals or late growing perennials such as hostas or ferns to fill in the void.

Tulip 'Mount Tacoma'

An heirloom variety dating to about 1915, 'Mount Tacoma' is a late blooming tulip with fully double flowers that resemble peony blossoms. The blooms have a sweet fragrance and are pure white with a hint of green veining. Like most other tulips, 'Mount Tacoma' is best grown as an annual and planted every fall.
Bloom time: Late spring
Size: 18-20" H
Hardiness: Zones 3-7

White Bleeding Heart (Dicentra spectabilis 'Alba')

Native to Japan, common bleeding heart is one of the most beloved of spring plants. This white cultivar although less vigorous than it's pink-lowered cousins, is a beautiful sight in the spring garden with its nodding flowers borne on arching stems. The lacey foliage is also attractive but will disappear in the South and in the North if the plant dries out.
Bloom Time: Spring
Size: 18-24 H x 18" W
Hardiness: Zones 2-9