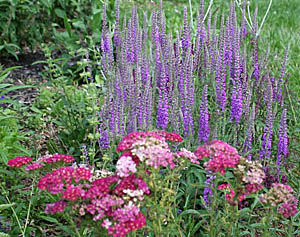 Starting in late spring speedwell 'Eveline' puts forth its purple-pink spikes and is joined a month later by the magenta flowerheads of Achillea 'Pomgranate'. The two bloom together for over a month and while speedwell 'Eveline' fades, Achillea 'Pomgrante' goes on for several weeks more. This perennial combination in analogous colors while contrast is provided by the spike of speedwell 'Eveline' and the large flattopped flowerheads of Achillea 'Pomgranate'. Further interest is provided by the deeply dissected leaves of Achillea 'Pomgranate'. Deadhead both plants to prolong bloom time and plant in full sun, with medium moist soil, well-drained soil for best growth.

Speedwell (Veronica longifolia) 'Eveline'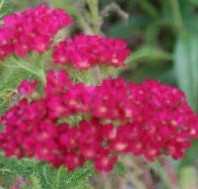 The tiny purple pink flowers are densely packed on upright spikes. The narrow dark green leaves are shiny and up to 4½" long. More compact than the cultivars, 'Eveline' does not usually need staking if grown in adequate light. Plants like rich soil and most not be allowed to dry out.
Bloom Time: Late spring to mid summer
Size: 12- 24" H x 8-12" W
Hardiness: Zones 4-8

Yarrow (Achillea millefolium) 'Pomegranate'

Known for its vigor and compact habit, Achillea 'Pomgranate' quickly forms a mat of ferny foliage that is attractive all season long. The magenta flowers are produced in dense flat clusters up to four inches across on sturdy stems. Plants tolerate some drought as well as hot humid climates but may flop . They can be cut back after flowering to the basal leaves to produce a more tidy look.
Bloom Time: Summer
Size: 18-24" H x 18-24" W
Hardiness: Zones 4-8.