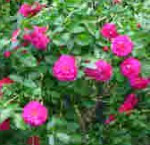 The Explorer roses were developed at the agriculture research station in Ottawa, Ontario and l'Assumption, Quebec to withstand the cold Canadian winters. Using Rosa rugosa, R. kordesii, Hybrid Teas, and Floribundas breeders produced roses that had the hardiness and disease resistance of old roses with the beauty and repeat blooming of modern roses. The resulting series consists of about twenty two cultivars named to honor Canadian explorers and includes red, pink, white, and a few yellow flowered plants as well as low growing groundcover, upright shrub, and climbing roses.
best place to buy Aurogra online? 'Captain Samuel Holland'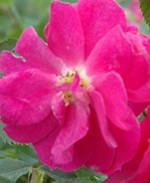 Pointed buds open to flat flowers that are deep magenta to pale crimson before fading slightly to dark pink. Dark glossy leaves clothe lax sprawling brick red stems. Can be grown as a pillar or shrub; flowers good for the vase. Captain Samuel Holland was Dutch and the Surveyor General of George III.
Type: Shrub; Modern Climber
Size: 6-10 H x 5' W
Growth Habit: Spreading, trailing
Flower Size: 3"
Petal Count:15-25
Scent: Slight
Flowering: Repeats
Hardiness: Zones 3-9
http://frescohealth.com/olive-oil-for-bread/ 'Champlain'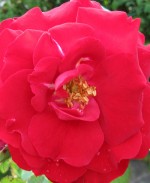 An abundance of bright to deep red flowers are produced singly or in clusters of five to seven continuously and are followed by orange hips. Compact plants carry glossy medium green leaves that have poor resistance to powdery mildew and black spot. Samuel de Champlain was the French adventurer that explored the Northwest Passage and became the Governor of New France.
Type: Shrub
Size:3-4' H x 3-4' W
Growth Habit: Compact
Flower Size:2.5-3"
Petal Count: 30
Scent: Light and musky
Flowering: Continuous
Hardiness: Zones 3-8
'
David Thompson'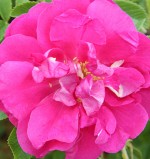 Medium red flowers in clusters of three to seven are lightly cupped with petals pressed together on the edges. Prickly stems, wrinkled leaves, continuous bloom, and sensitivity to insecticides are from the plant's Rugosa parentage. David Thompson was an English geographer and explorer.
Type: Rugosa hybrid
Size: 2.5-6" H x 5′  W
Growth Habit: Compact, upright
Flower Size: 2.5-3″
Petal Count:25
Scent:Strong and sweet
Flowering: Repeats well
Hardiness: Zones 2-7
'George Vancouver'

Crimson buds open to medium red flowers that eventually fade to dark pink. They are carried singly or in small clusters of seven and are followed by red hips. Compact prickly plants are vigorous and carry dark glossy foliage that is very disease resistant in cold climates. Plants sprawl and the leaves are less resistant to disease in warm climates. George Vancouver mapped most of the west coast of North America in the 1790.
Type: Shrub/Hybrid Kordesii
Size: 3' H 4' W
Growth Habit: Compact
Flower Size: 2.4-2.75"
Petal Count: 24
Scent: Mild, unpleasant
Flowering: Occasional repeat
Hardiness: Zones 3-8
'Henry Kelsey'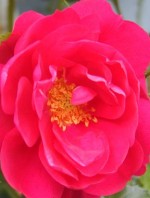 The cupped flowers are produced in clusters of five to eighteen and have bright crimson petals surrounding a center of golden stamens. They fade to rose read before dropping cleanly and giving way to small orange hips in the fall. The foliage is dark green and glossy. The bush produces long arching canes and can be used as a climber or pruned as a shrub.
Type: Hybrid Kordesii
Size: 6-9' H x 5' W; 13' H in warm climates
Growth Habit: Climbing with long arching canes
Flower Size: 2-3"
Petal Count: 25
Scent: Medium, fruity to spicy
Flowering: Repeats
Hardiness: Zones 2-7
'John Cabot'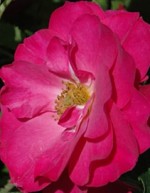 A profusion of light crimson purple flowers are produced in clusters of three to ten for six or seven weeks in the beginning of the season and sporadically through the summer until a big flush in the fall. The arching stems are prickly and densely covered with pale green glossy leaves. They can be pruned to form a shrub or allowed to grow freely into a cascading bush. This was the first rose in the Explorer Series and commemorates the Genoese sailor who first went looking for the Northwest Passage.
Type: Kordesii Hybrid
Size: 8-10' H x 4-8' W
Growth Habit: Arching
Flower Size: 2.5-3"
Petal Count: 40
Scent: Light and musky
Flowering: Repeat
Hardiness: Zones 4-8