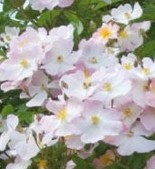 Rambling roses are not the same as climbing roses, although both kinds of roses will climb. Rambling roses have small flowers and usually flower only once where as climbing roses have larger flowers and repeat. Rambling roses have more flexible canes than climbing roses so are easier to train. They are also considered more vigorous and can grow in places where climbing roses would struggle.
Here are five white ramblers that are available in the US and have an American Rose Society rating of over 8.0.
'Darlowe's Enigma'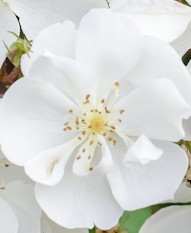 This very vigorous Hybrid Musk rambler has white or near white petals that open flat and set off a cluster of golden yellow stamens. It has attractive foliage, is disease resistant and tolerates some shade. Note that  unlike most other ramblers it blooms in flushes throughout the growing season.
Origin: Darlow, US, 1993
Parentage: Found rose
Flower Size: 1 ½"
Petal Count: Five
Scent: Strong
Flowering: Flushes
Plant Size: 6-12"
Hardiness: Zones 4-10
ARS Rating: 8.4
'Kiftsgate'
A wild rose, this rambler has bears airy clusters of up to one hundred white to near white flowers followed by small orange hips. The leaves are bronzy when young but turn pale green as they mature. The plant can become so large that it is unsuitable for a small garden.
Origin: Murrell, Britain, 1954
Parentage: Unknown
Flower Size: 1.2"
Petal Count: 5
Scent: Moderate
Flowering: Once, late in season
Plant Size: 25-40'
Hardiness: Zone 6
ARS Rating: 8.8
Francis E. Lester

The flowers of his Hybrid Musk are carried in clusters of twenty to thirty and are pink before fading to white. The plant has bright green leaves and a few large prickles.
Origin: Lester, US, 1946
Parentage: 'Kathleen' x unknown
Flower Size: F2"
Petal Count: Single
Scent: Strong, fruity, musky
Flowering: Once
Plant Size: 8-16' H
Hardiness: Zones 6-10
ARS Rating: 8.7
Alberic Barbier

This Wichurana rambler produces its flowers singly or in small cluster. The flowers open from apricot yellow buds and fade to cream and then white. They vary considerably in petal number and may be semi double to fully double. The small glossy leaves are crimson before turning dark green. Plants are disease resistant and shade tolerant.
Origin: Barbier, France, 1900
Parentage: Rosa wichurana x 'Shirley Hibberd'
Flower Size: 3.1"
Petal Count: semi-double to fully double
Scent: Strong, musky
Flowering: Once, midseason
Plant Size: 23' H
Hardiness: Zones 7-10
ARS Rating: 8.2
Felicite et Perpetue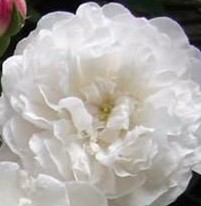 Best known of the Sempirvirens ramblers, this rose produces its flowers in open clusters of twenty to forty. The crimson buds open to pale rose pink flowers that fade to cream and then white. The numerous petals surround a button eye. The lax plant has very dark, small, evergreen leaves and a few very large prickles. One fault is the browning of the flowers as they fade.
Origin:Jacques, France, 1828
Parentage: Rosa sempervirens x 'Old Blush'
Flower Size: 1.6"
Petal Count: Very full
Scent: Strong and musky
Flowering: Once, midseason
Plant Size: 15-20' H
Hardiness: Zones 6-10
ARS Rating: 8.1