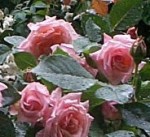 Climbing roses can produce a huge visual display in the garden and some are also fragrant so can add to the sensory experience. The ratings of the American Roses Society have been used to determine "best" roses. Every year the American Rose Society enlists the help of people all over the country to evaluate the roses they grow. Each rose cultivar is evaluated on a number of characteristics including garden performance which considers such factors as vigor and growth habit, number of blooms, how quickly the plant repeats, the beauty and lasting quality of the blooms in the garden, fragrance, resistance to mildew, blackspot and rust, winter hardiness, and quality of the foliage. The results of this survey are published in an issue of American Rose and ratings are published in the ARS Handbook for Selecting Roses.
The following five climbing roses are known for their strong fragrance and all have ARS rating of 8.3 or higher so are considered very good to outstanding.
'Royal Sunset'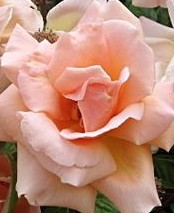 Long buds carried singly or in small clusters (usually three) open to cup-shaped flowers with twenty petals. Each petal is pale orange and has hints of gold and yellow at the base. The plant is vigorous with strong stems and many prickles. The large leaves are leathery and dark green. Although not well known in most of the world, 'Royal Sunset' is popular in the US especially in California. Flowers do well in the vase.
Origin: Morey, US, 1960
Parentage:'Sungold' x 'Sutter's Gold'
Flower Size: 5 "
Petal Count: 20
Fragrance: Strong, sweet, fruity
Flowering: Repeats
Plant Size: 8-16' H x 10' W
Hardiness: Zones 7-9
ARS Rating: 8.9
'Sombreuil'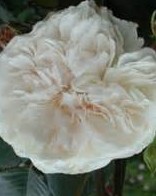 The creamy white flowers of this Tea-Noisette are sometimes tinged with pink and are carried in small clusters (usually three), or singly. They are quartered, quilled, sometimes have a green eye, and open flat with a multitude of petals. The petals are thin and do not do well in cold damp weather but last well in the vase. The foliage is glossy, dark green, and disease resistant.
Origin: Robert, France, 1850
Parentage: Unknown
Flower Size: 3.5
Petal Count: 60
Fragrance: Strong. Sweet, tea-like
Flowering: Flushes
Plant Size: 8- 13' H x 5-6.5' W
Hardiness: Zones 6-9
ARS Rating: 8.7
'Colette'

'Colette' is part of the Romantica series of roses developed by the Meilland family to capture the shape and scent of old roses with the colors and repeat flowering of new ones. 'Colette's' pale apricot pink flowers have a touch or mustard yellow at the center and fade towards the edges. They are carried singly or in small clusters of two or three, have an abundance of short, broad, wavy petals, and are cupped at first but open to a quartered shape. The plants are vigorous and have a small, dark green leaves and an abundance of prickles.
Origin: Meilland, France, 1994
Parentage; (Fiona x 'Friesia') x 'Prairie Princess'
Flower Size: 3"
Petal Count: 135-140
Fragrance: Strong and sweet, tea
Flowering: Repeats
Plant Size: 5-15' H x 4' W
Hardiness: Zones 7 and warmer
RHS Rating :8.4
'Compassion'


Opening from classic Hybrid Tea buds, the flowers have ruffled petals and are carried singly or in clusters of up to five. At first the petals are salmon pink, apricot, and orange, with pink on their upper sides but turn dirty white and fail to separate from the plant in a timely manner. The glossy dark green leaves are large and carried on prickly, coarse, well branched bushes.
Origin: Harkness, Britain, 1972
Parentage: 'White Cockade' x 'Prima Ballerina'
Flower Size: 4"
Petal Count: 36-40
Fragrance: Strong, fruity, sweet
Flowering: Repeats well
Plant Size: 9.8' h x 5-8' W
Hardiness: Zone 6-10
RHS Rating: 8.3
'Lavender Lassie'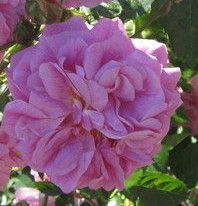 The lavender pink flowers have an old-fashioned shape and are produced in small clusters at first, in large cluster of up to 30 in maturity. The foliage is mid-green and semiglossy. The plants are vigorous and tolerate poor soil and neglect.:
Origin: Kordes, Germany, 1960
Parentage: 'Hamburg' x 'Mme. Norbert Levavasseur'
Flower Size :2.8"
Number of Petals: 17-25
Fragrance: Strong, sweet
Flowering: Almost continuous
Plant Size: 5-12' H x 4' W
Hardiness: Zones 6-9
ARS Rating: 8.3