Native to northeastern Asia, Rugosa roses are known for good hips but also make excellent garden plants. They offer unique bristly pleated foliage, disease resistance, shade tolerance, thorniness (good for a hedge), hardiness, and ease of culture. Although the species is still popular, Rugosas have given rise to a large group of hybrids, some of which produce large hips that vary in color from red to orange.
'Blanche Double de Courbert'


The crinkly white flowers are followed by large orange hips in a good year. Some bushes never seem to have hips but if you can coax your bush into producing them they are outstanding. The dark green foliage turns bright yellow in the fall.
Origin: Cochet-Cochet, France, 1892
Parentage: Rosa rugosa x 'Sombreuil'
Flower Size:3.5"
Petal Count: 10-20
Fragrance:Strong, sweet
Flowering: Continuous
Size: 4-7' H x 4-7' W
Hardiness: Zone 4
ARS Rating: 8.1
Fru Dagmar Hastrup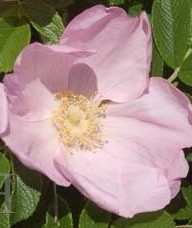 Silvery pink flowers are carried on a compact bush and are followed by large tomatolike red hips that persist after the leaves have turned yellow in fall. Its prickliness makes it an excellent choice for a hedge.
Origin: Denmark, 1914
Parentage: Unknown
Flower Size:3.1 "
Petal Count: 4-8
Fragrance: Strong, sweet
Flowering: Continuous
Size: 3.3' H x 3.3' W
Hardiness: Zone 4
ARS Rating: 8.4
'Hansa'


Long elegant buds open to loose flowers with magenta petals and golden stamens. Vermillion tomatolike hips follow. Pale green leaves complement the flowers and hips.
Origin: Schaum and Van Tol, Netherlands, 1905
Parentage: Not known
Flower Size: 3.9"
Petal Count: Up to 25
Fragrance: Strong clove
Flowering: Occasional repeat
Size: 5-7' H x 4-7' W
Hardiness:Zone 4
ARS Rating: 8.4
'Magnifica'


The flowers are carried in clusters of three to ten and have dark pink petals, a white center, and a mass of golden stamens. The hips are orange and persist into the winter. The small leaves give off and fragrance of apple, especially intense in the spring.
Origin: Hesse, Germany, 1916
Parentage: 'Lucy Ashton' seedling
Flower Size: 2.8"
Petal Count: 26-40
Fragrance: Strong and spicy
Flowering:Once only with occassional repeat
Size: 4-5' H x 4-5' W
Hardiness: Zone 3
ARS Rating: 8.8
Rosa rugosa alba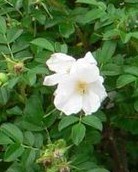 Long buds open to single white flowers with crinkly petals and bright yellow stamens. The orange hips that follow quickly and are fat and tomato like. Leaves are bright green. The pink form, 'Rubra' is identical except for flower color which is dark magenta.
Origin: China, Japan
Parentage: Not relevant
Flower Size: 3.1"
Petal Count: 5
Fragrance: Strong, very sweet
Flowering: Intermittent
Size: 4-7' H 4-7 ' W
Hardiness:Zone 2
ARS Rating: 9.1
'Scabrosa'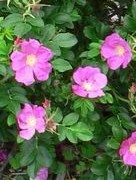 The magenta flowers have wavy petals and creamy stamens. The hips that follow are large, orange-red, and tomatolike. The medium green foliage is glossy and leathery.
Origin: Harkness, Britain, 1950
Parentage: Unknown
Flower Size: 5"
Petal Count: 4-8
Fragrance: Strong, sweet, spicy
Flowering: Repeats well
Size: 5' h x 5' W
Hardiness: Zone 4
ARS Rating: 7.6