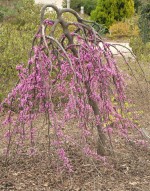 Weeping trees add interest and dramatic effect to any garden and give a soft look to even the harshest environments. When deciduous weeping trees drop their leaves in autumn, they reveal their graceful skeletons for winter enjoyment. Some, like Cheal's weeping cherry and Kilmarnock willow, produce beautiful flowers that adorn the weeping branches before the leaves appear again in spring. A weeping tree can be used as a focal point in a garden, part of a mixed border, or as a specimen tree.
Here are five favorite weeping deciduous trees.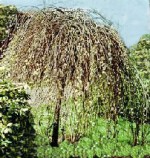 Kilmarnock Willow (Salix caprea 'Kilmarnock')
The fuzzy silver-gray male catkins that cascade down on the graceful branches before the dark green foliage appears are eye catching in the spring. At only 6' tall and 4 ½' wide it is a wonderful plant for a small garden where you can enjoy the catkins up close. Just be sure that you buy a male as the female cone is not as showy. Hardy in zones 4-8, it likes full sun to dappled shade and moist, well drained soil, doing well even in acid conditions.


Lavender Twist Redbud (Cercis canadensis 'Covey')
The dense clusters of bright lavender-pink flowers against the dark brown bark are a knock out in spring . The dark green leaves are heart shaped and the trunk is contorted and twisted providing great interest in the garden in winter. Growing to only 10' tall and wide, it is a great focal point in a small garden, in full sun to light shade. It does well in moist, well drained soil, hardy in zones 4-9, and is low maintenance.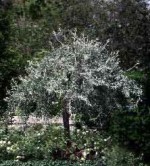 Weeping Willow Leafed Pear (Pyrus salicifolia 'Pendula')
The silver-green foliage of this 25' tall tree is outstanding and its pink-tipped flowers that open to white double its impact in the garden. Hardy in zones 4-7, it grows especially well where summers are cool. Thrives in full sun to part shade, in average, medium moisture, well drained soil but tolerates clay soil.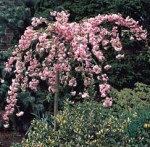 Cheal's Weeping Cherry (Prunus 'Cheal's Weeping')
This is one of those trees that begs to be sited near a small pool, its fluffy double pink blossoms reflected in the water below. The leaves emerge after the flowers and are bronze but turn green by summer. During the winter you can enjoy the attractive bark At 15' tall and 10' wide, it is a good choice for a small garden with rich, moist, well drained soil in full sun. Hardy in zones 5-8.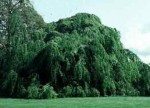 European Weeping Beech (Fagus sylvatica 'Pendula')
This is a very large tree, growing up to 60' tall and 50' wide, and needs a large lawn to show it off to its best. If you have such a lawn consider this tree because it is truly spectacular. The glossy dark green leaves cover the branchlets that hang from the arching branches in spring, turning reddish bronze to yellow in fall. Needing full sun, it likes moist, well-drained, acidic soil and is hardy in zones 4-7.
Weeping trees bring curves and gentle grace to the garden.  There is at least one that would enhance most gardens so give one a try.