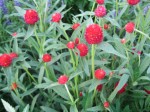 This is one of those great plants that looks good in the garden, in fresh or dried arrangements, and can also be used in craft projects like potpourri. The flowers are actually the tiny yellow specks you see on the red strawberry-like balls that appear to be the flowers. The balls are made up of red bracts, leaf like appendages, that are papery, don't wilt, and are long lasting. To dry the flowers I harvest them when they have just opened, strip off the leaves, and hang them upside down in a dark, dry closet for a couple of weeks. If I want to do something fancy in an arrangement I snip off the stems and insert wires into the heads for ease in working but they dry perfectly well on their own stems. Even if I could not use gomphrena in arrangements I would prize these plants in any bed or border. Once they start blooming in summer they keep on going until frost adding an interesting texture and color that goes well with many other garden plants in summer and blends with fall foliage in autumn. A native of Texas and Mexico, they also tolerate some drought as well as high summer temperatures and humidity. I sometimes have trouble finding this plant at garden centers but it can easily be grown from seed, and sometimes they self seed.
Type: Annual.
Bloom: 1½" globe shaped balls of red bracts bearing tiny yellow flowers from summer into fall.
Size: 1-3' h x 6-12" W.
Light: Full sun.
Soil: Average, well drained.
Care: Pinch when planting to encourage branching.
Pests and Diseases: Susceptible to gray mold and fungal leaf spots.
Propagation: Seed.
Companion plants: Celosia, vinca, lantana, creeping zinnia, iceplant, portulaca, verbena, sedum.