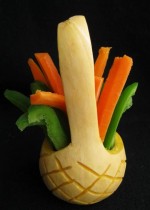 When preparing for a party or just an informal family gathering it's fun to dress up the food with an eye catching garnish. Adding a little extra touch like a garnish makes everything more festive and shows your guests that they are special. This holiday time I decided to dress up the presentation of celery and carrots by making a basket out of a butternut squash. I had grown squash during the summer and had only this one left by the time the holidays rolled around. The basket was very quick and easy to make and I filled it with carrot and green pepper sticks.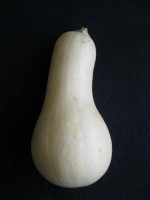 MATERIALS

One butternut squash
EQUIPMENT

Felt tip pen


Sharp knife (Exacto knife with #11 blade)


Mellon baller
DIRECTIONS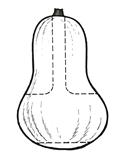 1. Cut off a thin slice from the large end of the squash so that the squash will sit on a surface without wobbling.
2. Using the diagram and a felt tip pen draw the cutting lines for the handle on the squash
3. Using the diagram as a guide, make two long vertical cuts through the squash about 1/-3/4" apart down to the bulge in the squash.
4. Make two horizontal cuts across the bulge of the squash meeting the vertical cut so that the side pieces can be removed.
5. Remove the handle part of the squash using the knife.
6. Remove the pulp from the basket part of the squash with the melon baler.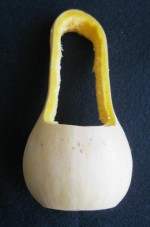 7. Using the felt tip pen draw a lattice design on the basket part of the squash.
8. Using the knife remove 1/8" wide section of squash skin along the lines of the lattice.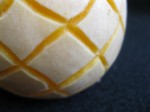 I made the basket several days ahead and kept it in the refrigerator covered with a plastic bag with no problem. I even used it several times after the festivities as a gentle reminder of a good holiday with family.