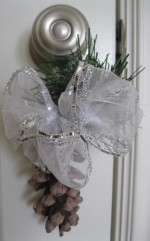 I enjoy Victorian style decorations for Christmas and one of them is a tussie mussie to go on the door knobs throughout the house.  I used to make them of fresh flowers but had to do so the day before Christmas and often stayed up late into the night to complete them so that they would be fresh all Christmas day.  This year I hit on a new idea; using a long pine cone (any long cone would do) to create the look of a tussie mussie. Of course, I know that this is not really a tussie mussie but it has the same general shape and adds a Victorian look to the décor.  The big advantage to these tussie mussies is that I can put them together well a head and so enjoy them for the whole Christmas season.  They are quick, easy and inexpensive to make so I can change them from year to year as I decide on different color schemes, or I can easily save them for reuse, replacing them as needed.  This year I paired them with the grapevine wreaths I hung on every door in the house, coordinating the colors or maximum impact.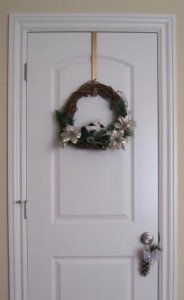 buy Lyrica 50 mg MATERIALS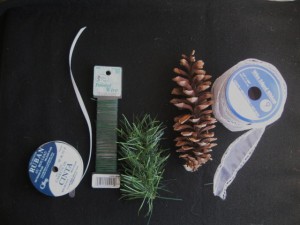 One long cone (I used white pine but others would do; long cones hang better that roundish ones and pine cones are easier to work with than spruce or fir due to the distance between the bracts.)

4" wired faux garland

24" wired ribbon 2.3' wide (or any ribbon you have on hand) for bow.

8"' florist wire or any strong flexible wire

10-12" narrow (1/4") ribbon for hanger
Bou Ismaïl DIRECTIONS
1. Twist the faux garland around the top of the cone.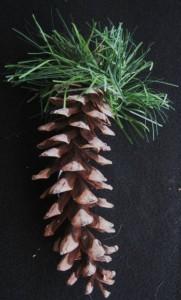 2. Make a 4-5 loop bow with the ribbon, securing the bow with the florist wire.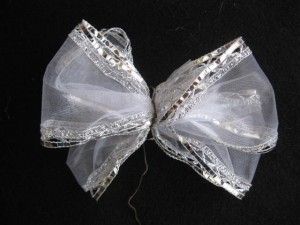 3. Attach the bow to the cone using the tails of florist wire and then fluff the bow into shape.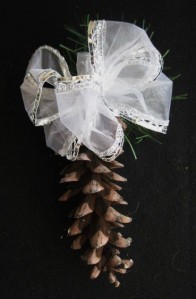 4. Loop the narrow ribbon around the top of the cone and tie it in a knot around the bracts of the cone.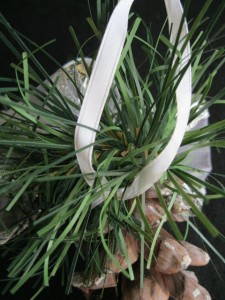 5. Knot the ends of the ribbon making sure that the loop will fit over your door handle.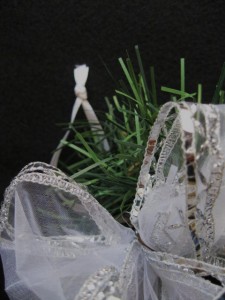 If you want to make them fancier you could add faux flowers, butterflies, birds, or other ornaments to the top of the cone, nestled in among the loops of the bow.  You can also hang these on a tree and use them as ornaments.  These are so easy to make you could have every member of the family make them as a holiday activity.