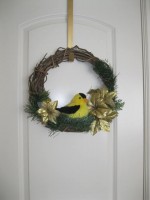 I love wreaths on the windows at Christmas and have experimented with various possibilities over the year. My most ambitious project was making 45 boxwood wreaths one for every window in my Annapolis house. Unfortunately, it was also my biggest failure as the back lighting in most of the windows made the wreaths little more than silhouettes. With this lesson in mind and lacking unlimited free boxwood in North Carolina, I hit upon another scheme and now I have decorated grapevines wreaths on every interior door. The wreaths are easy and inexpensive to make and add a holiday touch through out the house.
The directions are for one wreath but I made 18 all relating to a theme (birds). Each wreath had the same kind of flowers, poinsettias, but in different colors to go with the décor of the area in which they were located.
Materials:

One grapevine wreath


50" (approximately) artificial pine garland (or fresh greens if you have them)


Four or more artificial flowers (more if flowers are small); I bought little bushes of artificial poinsettias and cut them apart.


any other decorative items such as bows, stuffed animals, Christmas bulbs etc.; I used a plush Audubon bird


a hanger for the wreath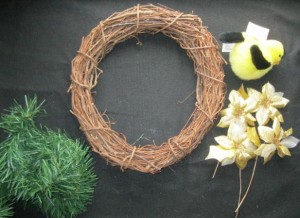 I bought the wreath on sale at a craft store, the artificial garland, artificial flowers, and hanger at a dollar store, and the Audubon bird from a vendor in Colorado who gave me a very good price because I bought 45 of them. They can be quite pricey if you use a lot and plush animals from a dollar store would work just as well. Dolls, angels, nutcrackers, shells, more flowers, a bow, Christmas bulbs, or any other decoration could be substituted as well.
Directions:

Cut the garland into 8" –10" lengths and weave into the wreath leaving room for your ornament/s.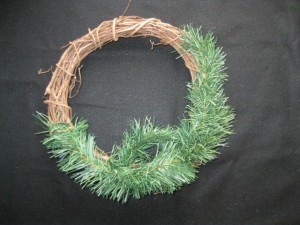 Weave the flowers into the wreath around the place you expect to place your ornament.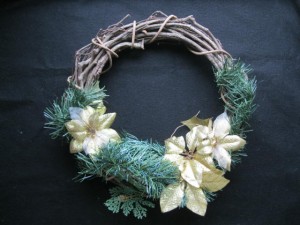 Place your ornament into the designated site. I used birds that elicit their characteristic cry when pressed. I made a nest like structure with two pieces of garland so that the birds could be easily removed, and I encourage people to enjoy the birds in this way.

Hang the wreath on the door.
Here are some other combinations using the same theme of birds and poinsettias;  A flicker with deep red poinsettias,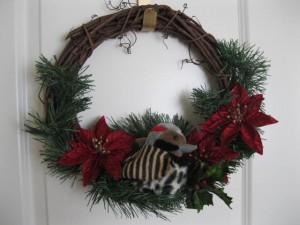 …a snow bunting sits on silver poinsettias with a touch of  faux variegated holly added to the greens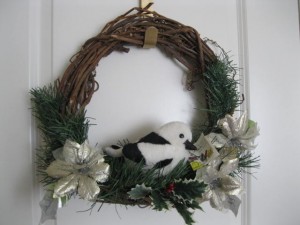 I bought this California condor  especially for my Californian daughter in law.  She was not taken by its beauty and I guess it wasn't ugly enough to be cute.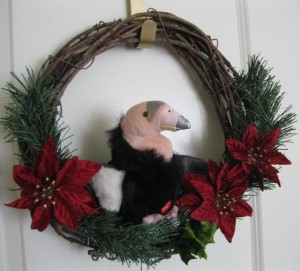 And what did I do with the other Audubon birds? Used them in garlands in various rooms.  A Baltimore oriole sits on the sideboard.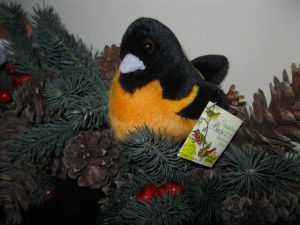 A loon sits on the mantel with a couple of owls and a hawk.  His black and white coloring is striking but his call is the best of any bird in my collection.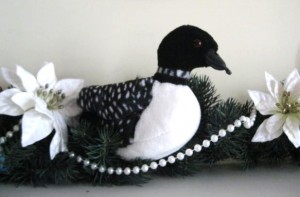 Lots of birds are perched on the staircase banister.  I leave the tags on the birds because they give interesting information about each bird, and besides, I can't always remember the name of the bird.
I also use small birds from the craft store in fresh green arrangements. Yup, I like birds at Christmas.