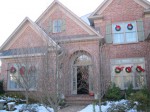 The homes that have wreaths or other outdoor decorations on their windows always seem to me to look like a scene from a Christmas card and I enjoy doing something too. This year I decided to make wreath for the window using some left over items from past projects with a few added items from my local dollar store. The total cost was about $3 per wreath and each wreath was constructed in less than 20 minutes.
MATERIALS:

Wreath (I had some 18" grapevine wreaths but any round form will work as the form will be entirely covered)


Fake garland (About 15′ of any sort of green needles attached to flexible wire)
DIRECTIONS:
1. Open the garland and find the center point by folding in half.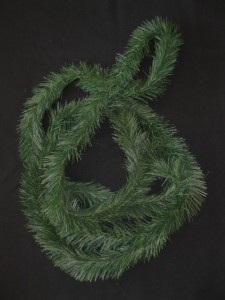 2. Attach the center of the garland by winding one of the tails around the wreath.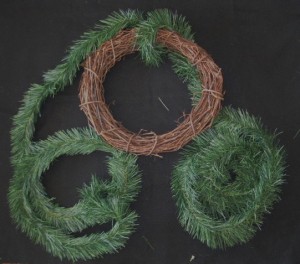 3. Wind one half the garland around the wreath form and attach to the form by bending the end into the wreath, gluing, or later attaching it to the other end of the garland.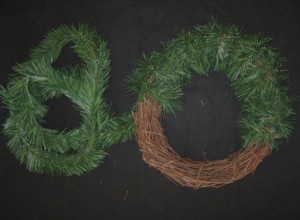 4. Wind the second half the garland around the wreath form and attach to the form or end of the garland.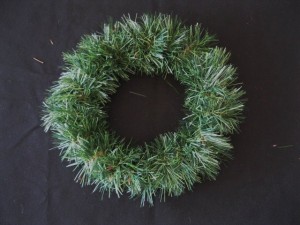 5. Add a bow and/or any other ornaments you like, remembering that they should be water proof and able to stand the rigor of an outdoor setting.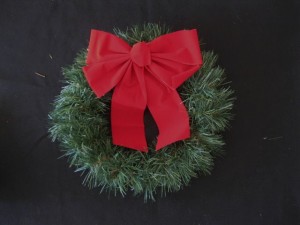 If you prefer you can wind the whole garland around the wreath form beginning at one end and ending with the other but I found that I had a more difficult time making sure the amount of greenery on the form was even all around. By starting at the middle of the garland you only have to redo half or less if you have an uneven wrapping.
Don't worry about imperfections and small gaps as a wreath on a house is going to be quite a distance from the eye and no one will see them. It is a simple wreath and works because of the contrast of the green garland and colored ribbon on the window. This is not a wreath for close inspection but it's hard to beat for cost, speed, and ease of making.